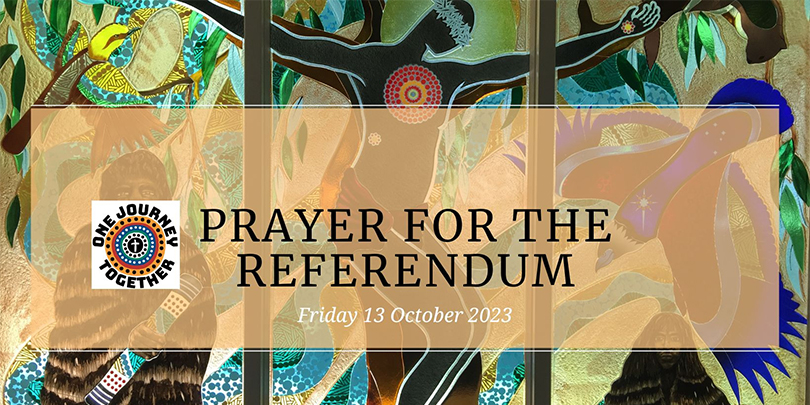 An online prayer and reflection service will be held tomorrow, ahead of Saturday's referendum on constitutional recognition of Aboriginal and Torres Strait Islander peoples through an Indigenous Voice to Parliament. Source: NATSICC.
The service is being organised by the National Aboriginal and Torres Strait Islander Catholic Council, Caritas Australia and Catholic Social Services Victoria under its "One Journey, Together" partnership.
It aims to give Australians the "opportunity to pause, and to consider our hopes for our country and for reconciliation more broadly"
Australia is home to over 135,000 Aboriginal and Torres Strait Islander Catholics, comprising the youngest and fastest-growing demographic of the Church.
In May, NATSICC expressed its support for the Indigenous Voice to Parliament as a "significant stride towards empowering Aboriginal and Torres Strait Islander Peoples in addressing the deep-seated inequities prevalent in numerous social, economic and health indicators".
The council formed a partnership with Caritas Australia and CSSV to provide education and resources that support listening and informed engagement with the referendum through the "One Journey, Together" website.
"These resources were designed to promote conversation over misinformation, something that's still sorely needed in the coming week," NATSICC's Victorian Councillor Sherry Balcombe said.
"We're so close to such an important vote with 8 per cent of the Australian voting public – close to 1.5 million of us – still feeling like they don't know what to do. Misinformation is also rife, and respectful, constructive dialogue is being abandoned in some forums.
"From social media to conversations in the community, we can only urge people to listen, and communicate with others with kindness and respect and approach all they read, see, and hear with an open heart and inquisitive mind."
The online prayer service will be held 8.30am AEST. Details and to register: Prayer For the Referendum: Moments for healing this country.
FULL STORY
First Australian Catholics encourage listening and respect in final days of Voice Referendum (NATSICC)