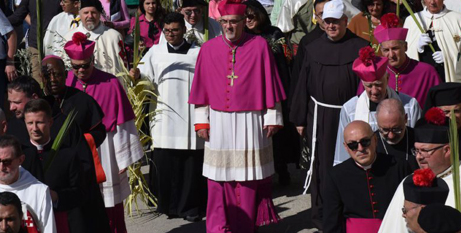 The Latin Catholic Patriarch of Jerusalem, who has called for today to be a global day of fasting and prayer for peace in the Holy Land, has offered to be exchanged for children being held hostage in Gaza by Hamas. Source: CNA.
Speaking to journalists via video conference yesterday, Cardinal Pierbattista Pizzaballa was asked if he would be willing to offer himself in exchange to free the children hostages who were taken in Hamas' attack on Israel last week. The cardinal responded that he is willing to do anything to "bring those children home."
"Am I ready for an exchange? Anything, if that can lead to freedom and bring those children home, no problem. There is an absolute availability on my part," the cardinal said.
Israel Defence Forces announced yesterday that 199 Israeli hostages, including children, are being held by Hamas and that the military is trying to understand where they are being held in Gaza. Hamas terrorists had threatened last week to kill one hostage every time that Israel's military bombs civilian targets in Gaza.
Cardinal Pizzaballa has called for a day of prayer and fasting for peace and reconciliation in the Holy Land today, urging Catholics to organise times of prayer with Eucharistic adoration and recitation of the rosary "to deliver to God the Father our thirst for peace, justice, and reconciliation".
St Mary's Cathedral in Sydney will offer all Masses today for peace in the Holy Land in response to a Cardinal Pizzaballa's request.
In a statement from Rome, where he is participating in the Synod on Synodality, Sydney Archbishop Anthony Fisher OP encouraged Catholics to make time today to pray for an end to hostilities.
"As followers of Jesus Christ, the Prince of Peace who became incarnate in the very lands of this conflict, we pray for an end to this war and the devastating human misery that it brings.
"I encourage you all to make time [today] either at St Mary's Cathedral or your local parish, to pray for an end to the hostilities in the Holy Land and for the peace of Our Lord Jesus Christ to fill the hearts of all people."
FULL STORY
Catholic Patriarch of Jerusalem offers to be exchanged for hostages held by Hamas (CNA)
St Mary's Cathedral to offer Masses on 17 October for peace in the Holy Land (By Marilyn Rodrigues, The Catholic Weekly)