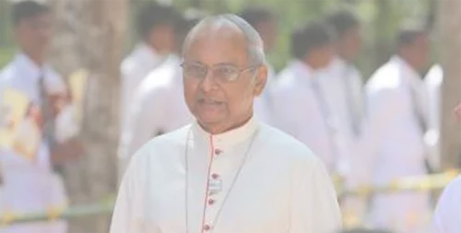 Church and rights groups, including media organisations and political parties, have challenged the legality of the Sri Lankan Government's online safety bill, saying it curtails freedom of speech. Source: UCA News.
Cardinal Malcolm Ranjith, who filed the petition in the Supreme Court on Monday, said certain clauses in the draft law seriously curtail freedom of speech and fundamental rights guaranteed by the constitution.
The bill reportedly proposes to compel social media platforms to divulge the identities of anonymous users who post information that government regulators consider to be "false" or "offensive".
It stipulates a five-year prison sentence for social media users and a 10 million rupee ($48,000) fine on social media platforms for non-compliance.
Rights groups have called it "a wholesale effort" to stifle criticism of the island nation's beleaguered government.
Cardinal Ranjith said the law plans to give "arbitrary and unreasonable wide-ranging powers have been given to the president" to appoint or remove the president and members of the Online Safety Commission.
He urged the Supreme Court to order a referendum on the issue and ensure the bill cannot be approved by Parliament without a two-thirds majority vote.
Paikiasothy Saravanamuttu, executive director of the Centre for Policy Alternatives, who also filed a petition challenging the bill, said it violates several articles of the constitution.
The Government claimed the bill aims to protect children and women from negative impacts like pornography and online fraud.
The Supreme Court began hearing the bunch of petitions challenging it on October 10 and will continue until Friday.
President Ranil Wickremesinghe has been accused of cracking down on dissent since coming to power last year at the height of the South Asian island nation's unprecedented economic crisis.
FULL STORY
Church challenges Sri Lankan draft law to stifle social media (UCA News)