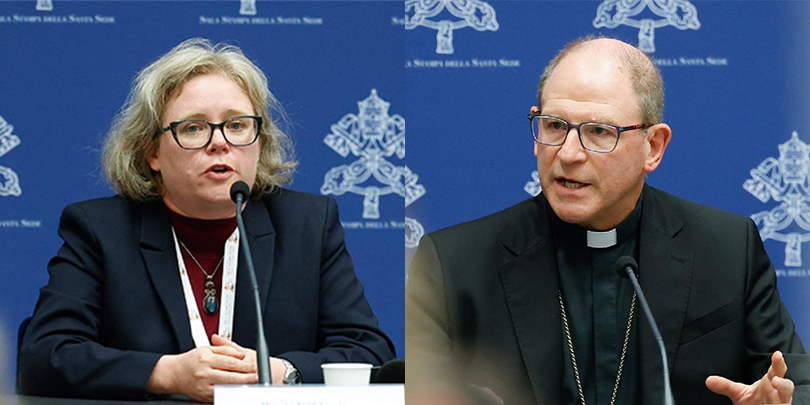 Broken Bay Bishop Anthony Randazzo says synodality is "not something that is born in a vacuum" but is how Catholics "live our faith and how we proclaim the Gospel in every single moment of our day". Source: CNS.
Bishop Randazzo made the comment at a media briefing on the Synod on Synodality yesterday. He was joined on the panel by fellow Australian Synod member and University of Notre-Dame Australia professor Renee Kohler-Ryan and others.
"One of the geniuses of the Holy Father, Pope Francis, is that this (synodality) is not something that is born in a vacuum," Bishop Randazzo explained.
"He has reflected very deeply and sincerely upon the human reality of the community of people around the world, and how we experience life together on this planet, but also how we as Catholic Christians live our faith and how we proclaim the Gospel in every single moment of our day, regularly by what we say but always by who we are as a community of Christ's faithful and disciples of the Lord."
After close to two weeks of discussion – including on issues such as synodality itself, the role of women in the Church, welcome for LGBTQ Catholics, better education and formation of Catholics and more collaborative relationships between priests and laypeople, "there is a sense that things are tightening up, emerging, but through that process of hopeful patience," Professor Kohler-Ryan said.
"It is going to take time, but it has to in order to give all of those issues the seriousness that they deserve."
Professor Kohler-Ryan insisted that the Synod discussions, including about women, are much broader than the media would have people believe. She said the discussion about women is not focused on the possibility of women deacons, but on a myriad of issues related to their lives in the Church and the world, including supporting their families and educating their children in the faith.
Meanwhile, Sandhurst Bishop Shane Mackinlay has been interviewed for a new podcast by the US-based National Catholic Reporter, in which he discusses women deacons, how the Synod is handling tensions among its members and lessons the Synod can draw from Australia's fifth Plenary Council.
FULL STORY
Synod members urge patience as process continues (By Cindy Wooden, CNS via Detroit Catholic)
Exclusive: Bishop on synod drafting committee expresses openness to women deacons (By Christopher White and Joshua McElwee, NCR Online)
RELATED COVERAGE
Australian Bishop says it's a 'good thing' Pope spoke out in support of same-sex blessings (The Journal)
Theologian at Synod on Synodality: There's 'too much emphasis' on women priests (CNA)