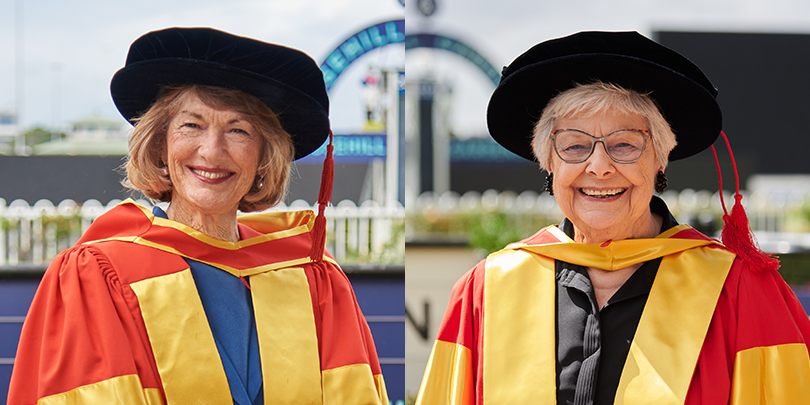 Respected Australian journalist and broadcaster Geraldine Doogue and Australian Breastfeeding Association founder Natalie Mary Paton have been awarded honorary doctorates from Australian Catholic University.
Doogue, whose journalism career in print, television, and radio has spanned more than four decades, was conferred a Doctor of the University (Honoris Causa) in Sydney on October 17.
The honorary award recognises Doogue's contribution to initiatives in association with the Church and promoting religious tolerance, as well as her contributions to the well-being of the nation through her work as a journalist and generating conversations about the faiths by which people lead their lives.
"I am thrilled because I've got a great soft spot for ACU and have watched it grow and develop as a national university through my entire journalism career," Doogue said.
After establishing herself as a serious journalist with formidable training in reporting hard news stories, Doogue's Catholic faith and curiosity launched her into content that went beyond the headlines. This included her work as the first presenter of ABC Radio National's Life Matters program, nearly two decades of hosting ABC TV's Compass, and conversations with Church leaders on her podcast, Plenary Matters.
ACU's highest honour was also bestowed on ABA founder Natalie Mary Paton on the same day.
Addressing ACU health graduates, Mrs Paton said it had been 70 years since she graduated as an occupational therapist. Her journey since then was marked by her work with the Nursing Mothers' Association, now ABA.
"It was an enormous challenge, no money, no office or equipment, just three books and the acquired knowledge of six mums," Mrs Paton said.
"It is possible for one person to make a difference, not necessarily building an organisation but as your graduates enter your profession and career, your journey can be full of satisfaction and pleasure as you treat and support your patients."
FULL STORY
Veteran journalist Geraldine Doogue receives Honorary Doctorate from ACU (ACU)
ACU to award breastfeeding support founder Mary Paton her first honorary doctorate (ACU)