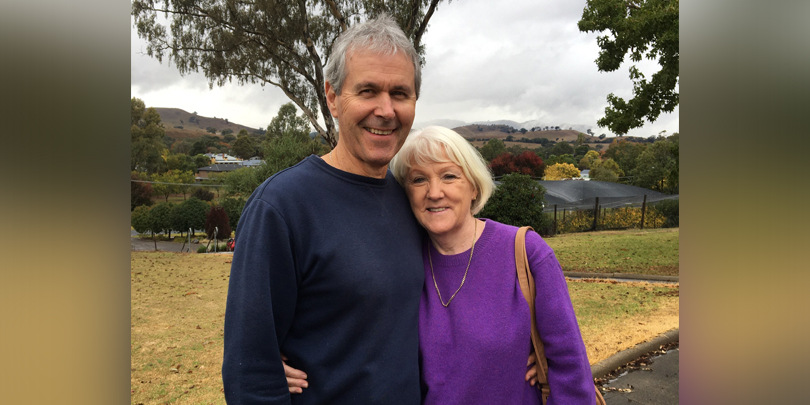 "Chaplaincy and Mental Health: It's Healthy to Get Help" is the theme for Pastoral Care Week 2023, highlighting the importance of chaplains, pastoral counsellors and spiritual caregivers working closely with mental health colleagues. Source: VMCH.
Melbourne-based VMCH (Villa Maria Catholic Homes) has 24 pastoral care practitioners (PCPs) who support residents, clients and their families across aged care, palliative care, affordable homes and disability services.
Pastoral care is an integral part of VMCH's mission, with PCPs there to support people in times of pain, loss, triumph and joy, through prayer, meaningful activities, social visits, grief support and hospitality.
PCP Peter Vear works at VMCH's newest affordable homes development, Trinity Lane, which offers safe and secure accommodation to people aged over 55 who are on low incomes, and people with disability.
Relatively new to the role, the former administration officer says pastoral care work is something he's always wanted to do.
"I love learning about people's lives; what they've been through and offering them support."
VMCH chief mission officer Bridget O'Shannassy says the organisation prioritises investing in its pastoral carers, recognising the positive impact their ministry of offering emotional and spiritual support can make.
"The past year has been very busy for our team as they've built on their knowledge and training around grief support, helping aged care residents to foster a greater understanding around cultural diversity, and offering opportunities for residents to relax through mindfulness/meditation sessions," Ms O'Shannassy said.
During the first six months of this year, VMCH PCPs supported people through 15,036 one-on-one visits, 1123 pastoral activities, 535 Masses, and 144 deaths.
"Pastoral care is a vocation; true heart work that can be draining at times," Ms O'Shannassy said. "Self-care is important for pastoral care practitioners – we need to nourish ourselves, so we are able to continue to share and give to others."
FULL STORY