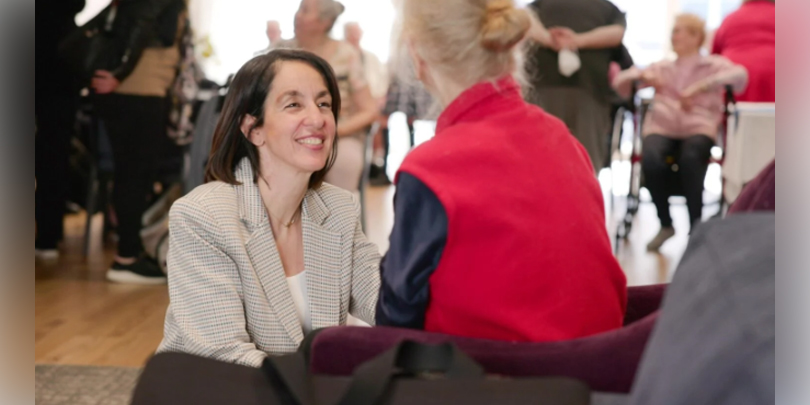 Sydney Catholic Nellie Doueihi's efforts in "reaching out in love and service" to her community has won her an award and a $20,000 grant to continue her work. Source: The Catholic Weekly.
When Ms Doueihi noticed that half of the elderly residents in a local nursing home were never getting visitors, she arranged for some children to visit regularly.
When she noticed the elderly in her community were struggling with technology, she introduced a student program to assist them on how to navigate their mobile phones and iPad's.
As the coordinator of ministries to the sick and elderly at St Declan's Catholic Church in Penshurst, Ms Doueihi provides 130 volunteers with an opportunity to impact the daily lives of 300 elderly people.
"Bringing the children to our nursing home visit program has brought a vibrancy and cross generational richness to both the younger and the elderly," Ms Doueihi said.
"To witness the exchange and impact of intergenerational initiatives reinforces the belief that simple acts of kindness can make a difference. It's about connecting and building meaningful relationships by bringing generations together.
"My hope is we enrich lives, by reaching out in love and service to others in our community especially the sick and the elderly and bringing God's love to life in people."
Last week, her efforts in bringing that love to her community won her the 2023 Westfield Local Hero Award and a $20k grant to continue her work. But Ms Doueihi is hearing none of the hero accolades.
"As Catholics we are called to affirm the dignity of all members of society, especially those who are most vulnerable, and this often extends to the elderly members of our community. The elderly are the real heroes!"
FULL STORY
Local hero Nellie Doueihi wins $20k prize for St Declan's ministry to elderly (By Darren Ally, The Catholic Weekly)