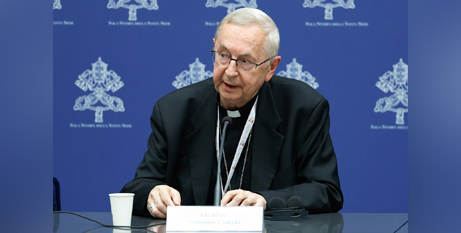 One difficulty of synodality lies in distinguishing pastoral practice – which can be adapted to different cultural circumstances – from Church doctrine, a Polish archbishop told a Synod on Synodality press briefing yesterday. Source: CNA.
"In doctrine, the Church cannot bring to it the different viewpoints of those coming from the other continents or other parts of the world. Doctrine has to be 'catholic' [universal] and the same for everyone," Archbishop Stanislaw Gadecki of Poznan said.
This is in contrast, the president of the Polish bishops' conference said, to "different pastoral expressions" of doctrine as appear in different cultures, languages, and historical situations.
Archbishop Gadecki said the method of this synod brings both differences and agreements, and participants are not hiding the challenges.
"It would be useless to get together for a month and hide difficulties that exist in different situations or in connection with different issues that require an answer," he said.
On pastoral practice versus doctrine, Archbishop Gadecki underlined that "countries have their own histories and they must also be in tune with that history" – including negative responses to the Church's actions.
He said different pastoral expressions do not influence Christian doctrine, the magisterium, holy Scripture, and sacred tradition.
"As far as the essential things are concerned, there cannot be a development of Christian doctrine, but in the things that are not essential, there can always be a change as long as that change is a true development," he said, referencing the theological concept of the development of doctrine.
A Romanian Orthodox bishop, who is taking part in the synod as a fraternal delegate (a participant without a vote), said one challenge in the Orthodox understanding of synodality is in reaching a consensus among bishops.
Metropolitan Iosef of Western and Southern Europe said the good thing about synodality "is you're never alone when you make decisions".
FULL STORY
Polish bishop at Synod: Practice can vary but doctrine has to be the 'same for everyone' (By Hannah Brockhaus, CNA)
RELATED COVERAGE
Fraternal delegates lend 'ecumenical character' to Synod press briefing (Vatican News)