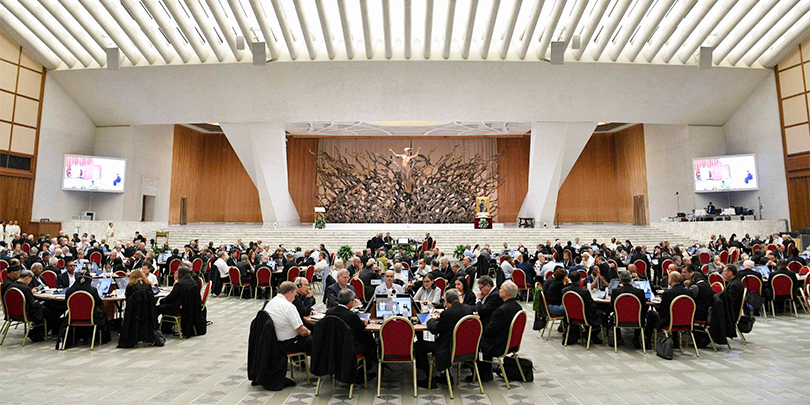 Reflecting on last month's Synod on Synodality assembly, Perth Archbishop Timothy Costelloe SDB described "being a synodal Church" as an experience that "we have to live in order to understand it". Source: America Magazine.
"I don't think we experienced the inversion of the pyramid model of the Church at the synod; rather we experienced a different model altogether of the Church," Archbishop Costelloe, one of the president delegates of the Synod, said in an interview in Rome on October 30 that was published this week.
Archbishop Costelloe said he remained "very positive about the Synod experience."
"I think it's important to remember that this is the end of the first assembly and there's another assembly in 12 months' time. So, the question I would ask is: Are we well positioned now to take the next steps in the discernment process? The answer is yes.
"If people were expecting final decisions at the end of the first assembly, they'll be quite disappointed. But it was always going to be the case that at the end of the first assembly we would hopefully have clarified what the main issues were, delved into them a little deeper, allowed things to rise to the surface so that we now know what it is that we really need to discern more deeply as we move forward. I think we achieved all of that," Archbishop Costelloe said.
When asked about the "transformative" element of having non-bishops, including lay people, vote at the Synod, Archbishop Costelloe said that he believed for some bishops "this was a difficult thing to come to grips with".
"Cardinal [Mario] Grech clarified that the Pope had made very clear that this is a Synod of Bishops, but it was being conducted in a way in which the bishops exercised their particular ministry within the Church rather than separate from the rest of the Church.
"That's saying something about the way the ministry of the bishops should be exercised, not as a kind of a separate thing standing over against the rest of the Church, but from within the Church."
FULL STORY
Australia's Archbishop Costelloe: Cardinal Newman's 'development of doctrine' is key to understanding the synod (By Gerard O'Connell, America Magazine)