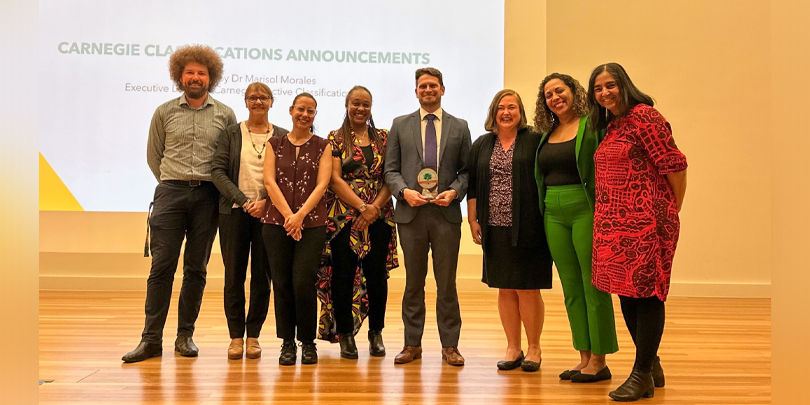 Australian Catholic University has become one of the first Australian higher education institutions to receive the new Carnegie Community Engagement Classification.
ACU and University of Technology Sydney (UTS) were announced as the inaugural recipients of the new classification for Australian universities at the Engagement Australia conference in Sydney yesterday.
The historic announcement makes ACU one of the first universities outside the United States to receive this significant classification, which was formally implemented in Australia in June.
The classification recognises ACU as a higher education leader in institutionalised community engagement, committed to working with community to transform society.
Established by US-based Carnegie Foundation for the Advancement of Teaching, the Carnegie Classifications have been used to recognise and advance the community-engaged practices of higher education institutions.
Community Engagement at ACU encompasses activities and initiatives that build capacity and affirm human dignity through sustainable and reciprocal collaborations with communities, especially those that have historically experienced disadvantage or marginalisation.
ACU Vice-Chancellor and President Zlatko Skrbis said ACU's successful Carnegie Classification was a momentous achievement for the university.
"As a national university – with an overseas campus in Rome – ACU serves and works closely in at least ten local communities connected to our campuses and leadership centres. The Carnegie Classification reaffirms our commitment to working with these communities and partner organisations to improve the lives of members living in our communities and to take on research that serves the common good," Professor Skrbis said.
ACU Vice-President Fr Anthony Casamento csma, whose office oversees ACU Engagement, said the Carnegie Classification recognised the value of community engagement across the university.
FULL STORY
Australian Catholic University earns historic Carnegie Classification (ACU)
RELATED COVERAGE
ACU and UTS recognised by Carnegie Foundation for engagement (ACU)