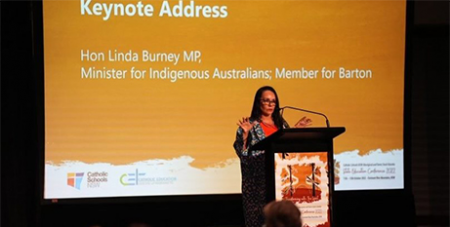 The Catholic Schools NSW Aboriginal and Torres Strait Islander education conference this week has gathered 550 educators to discuss Closing the Gap in educational outcomes for Indigenous youth. Source: Catholic Outlook
The Transforming with the Spirit conference, which concludes today, is hosted by Catholic Schools NSW together with Catholic Education Diocese of Parramatta.
Indigenous Australians Minister Linda Burney headlined the event, discussing her teaching career prior to entering politics and calling conference delegates to action on the Indigenous Voice to Parliament.
In conversation with Professor Anita Heiss, Ms Burney discussed growing up in country NSW. Delegates heard she had a political awakening when she became a school teacher, starting in the Mount Druitt area of Sydney in the 1980s. She said this work in Aboriginal education taught her that "If you're not at the table having your say, your voice will not be heard".
Ms Burney told delegates that the federal Government is committed to making a real difference in Closing the Gap in education outcomes for Indigenous students. She noted that the Catholic Schools NSW Aboriginal Education Strategy aims to see increases in enrolments, retention and post-school transitions as well as improvements in numeracy and literacy and NAPLAN results.
Reflecting on Reconciliation, Ms Burney reminded delegates that everyone has a role to play. In a stirring call to action, she urged everyone present to talk to each other and colleagues about the importance of the upcoming national referendum to establish an Indigenous Voice to Parliament.
FULL STORY
Minister a strong voice at Transforming with the Spirit Conference (Catholic Outlook)