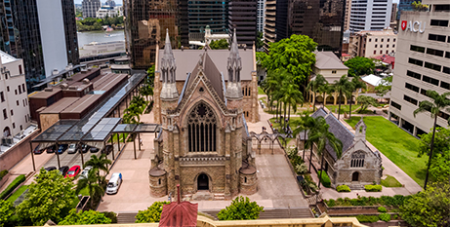 Visitors to Brisbane's St Stephen's Cathedral are encouraged to pray at a new "little shrine" for Christians who are persecuted worldwide. Source: The Catholic Leader
The shrine, to the side of the cathedral altar, with a centrepiece icon of St Stephen – the first Christian martyr – was announced by Archbishop Mark Coleridge during Mass on Sunday.
"We have decided to make this icon a place of prayer for the many, many thousands of our Christian brothers and sisters who are being persecuted around the world," Archbishop Coleridge said. "They need our prayers.
"This will be a little shrine at the feet of the protomartyr, the first of all the martyrs, to pray that St Stephen will intercede for our brothers and sisters who are being persecuted."
According to the Acts of the Apostles, St Stephen was a deacon in the early Church at Jerusalem who angered members of various synagogues by his teachings.
At his trial, accused of blasphemy, he made a speech denouncing the Jewish authorities who were sitting in judgment on him. He was then stoned to death.
It is estimated that more than 360 million Christians throughout the world experience high levels of persecution and discrimination.
According to the website Open Doors, 5898 Christians were killed for their faith last year, 5110 churches and other Christian buildings were attacked, and 4765 believers detained without trial, arrested, sentenced or imprisoned.
FULL STORY
St Stephen's "little shrine" dedicated to the persecuted Christians throughout the world (By Mark Bowling, The Catholic Leader)