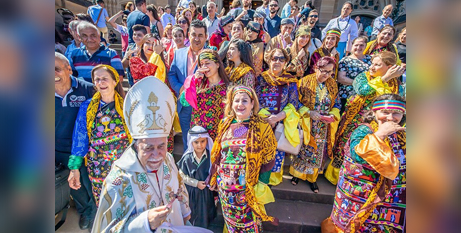 The Catholic Church is twice as multicultural as Australia's other Christian denominations, a new survey has found. Source: The Catholic Weekly
Initial findings from the 2021 National Church Life Survey found 51 per cent of Catholic parishes having multicultural congregations compared to about 25 per cent of Protestant, Anglican and Pentecostal parishes.
Just under half of all Australian Christians are second-generation migrants, with at least one parent born overseas.
Catholics are much more likely than other denominations to have come from a non-English-speaking country.
Initial findings from the survey, released on September 29 at a webinar presented by NCLS Research Director Ruth Powell, show a faith that is more multicultural, older, more educated, and predominantly female.
Christianity has continued to age dramatically in the past five years, with 36 per cent of church attenders across the country now aged 70 years or over, more than twice the Australian average (15 per cent).
Churchgoers are more likely than the average Australian to have been to university, with 44 per cent having a bachelor's degree or higher.
Among younger Christian adults aged 30-50, this rises to 70 per cent, and Christian migrants from non-English speaking countries are much more educated than average, with 57 per cent having university qualifications.
Lay men are increasingly going missing from Australian churches. Women make up 61 per cent of churchgoers and outnumber men in every age group.
FULL STORY
'Twice as multicultural' (By Adam Wesselinoff, The Catholic Weekly)