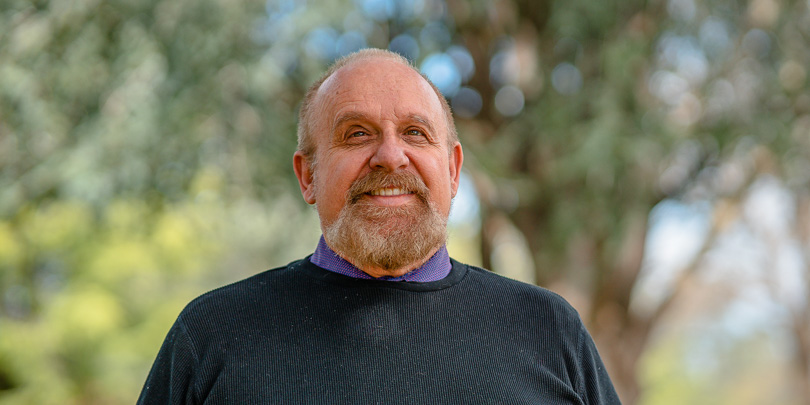 Long-time Brisbane-based social justice advocate Peter Arndt has commenced a new role as director of the Australian Catholic Bishops Conference's Office for Justice, Ecology and Peace. Source: ACBC Media Blog.
Mr Arndt was the long-term executive officer of Brisbane Archdiocese's Justice and Peace Commission. He says in his new role he will continue to advocate for those who live on the margins.
"Weaving its way through everything I hope to do in the Office is a desire to embed a mission focus in everything the Church does," he said.
"I feel strongly that we need to be on the streets getting 'bruised, hurting and dirty' as the Pope said in Evangelii Gaudium, The Joy of the Gospel. We need to be on the margins and peripheries where people are facing hardship and injustice."
Mr Arndt, who is legally blind and is supported by Mac, a black Labrador, said supporting Aboriginal and Torres Strait Islander people has been one of his priorities, along with advocating for the rights of refugees and asylum-seekers.
His work on ecological issues within and beyond the Church has been another key focus. Mr Arndt serves on the executive of the Queensland Conservation Council and he worked with the Vatican's Dicastery for Promoting Integral Human Development on the development and promotion of the Laudato Si' Action Platform.
He has also built a sense of solidarity with people in the Pacific, including in West Papua.
In addition to carrying forward those passions, Mr Arndt's national role will see him take on responsibilities related to the annual Social Justice Statement and the outcomes of the Plenary Council relevant to the Office's work.
Bishop Vincent Long OFM Conv, the chair of the Bishops Commission for Social Justice, Mission and Service, welcomed Mr Arndt to the Bishops Conference.
"I look forward to working with Peter, in partnership with the Commission and the Australian Catholic Social Justice Council, to support and enhance national collaboration in the areas of justice, ecology and peace."
Social justice advocate takes on new national role (ACBC Media Blog)