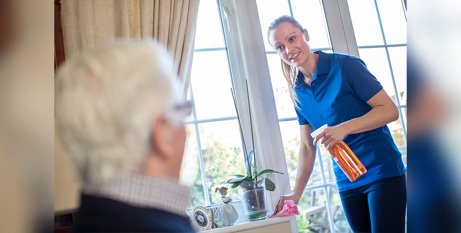 Catholic Health Australia has welcomed the Fair Work Commission's interim decision to award aged care workers a 15 per cent pay rise but says support workers also need a wage boost to stop them leaving the sector.
On Friday, the commission ruled that direct care workers should immediately get a 15 per cent interim increase to their minimum wages – but crucial support workers including kitchen, laundry and maintenance staff are still awaiting a decision.
CHA's aged care director Jason Kara said these workers, who are essential to the provision of a good quality aged care sector, also deserved a wage increase.
"Catholic Health Australia welcomes the Fair Work Commission's interim decision. Better wages and conditions are key to attracting and retaining workers, and to restoring dignity to the carers who do such important work for society," he said.
"The Commission has not yet decided on whether about 100,000 administration and support workers will also receive a pay rise, and if so, how much. These workers are critical to delivering quality aged care and deserve a pay rise.
"CHA supports immediately passing increases on and delivering a much-needed boost to the workforce. We look forward to the Government delivering on its promise to fully fund the wage increase."
Mr Kara said the Government should also consider other policies to make sure the aged care sector – where more than half of facilities are running at a loss – can recruit and retain staff.
FULL STORY
Catholic Health Australia says aged care support workers must also get a pay rise (Catholic Health Australia)