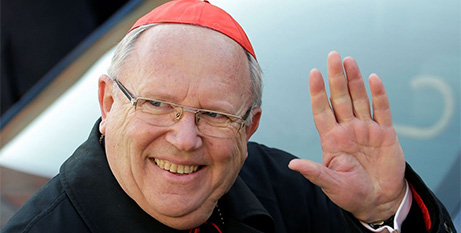 French Cardinal Jean-Pierre Ricard, former head of the French bishops' conference, has admitted to abusing a 14-year-old girl 35 years ago. Source: CNS.
The revelation came in a letter from Cardinal Ricard read by Archbishop Eric de Moulins-Beaufort of Reims, president of the bishops' conference, during a news conference on abuse yesterday, during the French bishops' general assembly.
The cardinal said the "reprehensible" action occurred when he was a priest, and he said his behaviour "has necessarily caused serious and lasting consequences for this person".
He said he asked the woman for forgiveness and asked for forgiveness from her family. He also said he was going on retreat to pray.
"This is a difficult process. But what comes first is the suffering experienced by the victim and the recognition of the acts committed," he said.
"Finally, I ask forgiveness to those whom I have hurt and who will live this news as a real test," he said.
The cardinal did not provide additional details.
He is a member of the Dicastery for the Doctrine of the Faith, the Vatican office charged with investigating clerics accused of abuse.
Archbishop Moulins-Beaufort said the cardinal was among 11 bishops or former bishops who are being or have been investigated by Church or judicial authorities for abuse.
The Vatican did not immediately say what, if any, disciplinary measures would be taken against 78-year-old Cardinal Ricard, who retired in 2019 as archbishop of Bordeaux. The possibilities range from being ordered to live a life of prayer and penance out of the public view to being removed from the College of Cardinals or even from the priesthood, although that usually is a punishment reserved to serial abusers.
FULL STORY
French cardinal admits to abusing teen girl 35 years ago (CNS)