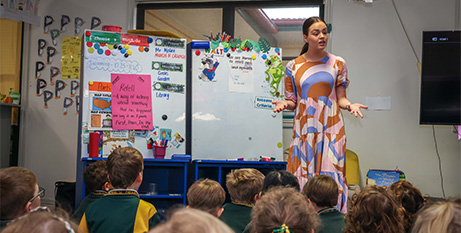 Australian Catholic University pre-service teachers taking part in a comprehensive mentoring program have experienced a significant drop in anxiety and dramatically improved their Catholic and spiritual literacy, new research shows.
A three-year review of the Spiritual and Pedagogical Accompaniment program found pre-service teachers' competency against the Australian Professional Standards for Teachers, as well as their sense of belonging in the school environment, also improved.
SPA developer and ACU senior education lecturer Amanda Gutierrez said the program, a partnership between ACU and Brisbane Catholic Education, offered holistic support and mentorship to help PSTs of all faith or spiritual backgrounds enter the profession.
"It gives them a strong connection to themselves, their spirituality, their wellbeing and their understanding of what it means to be a teacher, as well as vital support to have longevity in their careers," Dr Gutierrez said.
"It is a truly authentic and holistic model for effective PST training, connecting stakeholders within and beyond ACU with Catholic Intellectual Tradition at the core."
Under the program, PSTs spend one day per week at a school for between six 6 to 12 months in addition to doing their placements there, allowing them to immerse themselves in the school culture, learn from staff, get to know their students, experience the demands of the profession, and, often, secure their first jobs.
Dr Gutierrez said a key part of SPA was pairing PSTs with a one-on-one "spiritual and pedagogical companion", who met with them regularly during their journey to offer vital support.
SPA alumna Eliza Martin completed the program this year and said it helped her understand students' strengths and challenges, use that information to inform her curriculum planning, and build on her own spiritual literacy.
FULL STORY
Program boosts pre service teachers' spirituality and skills (ACU)