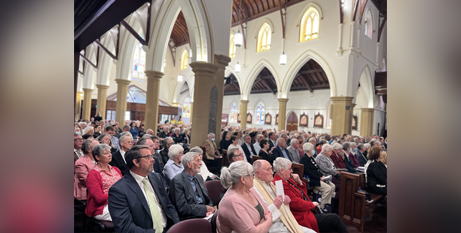 After a 40-year renovation and in the year of its 150th anniversary, the doors of Sts Peter and Paul's Old Cathedral in Goulburn were officially reopened to the public yesterday. Source: Catholic Voice.
Canberra-Goulburn Archbishop Christopher Prowse was the principal celebrant for the Mass and dedication that took place yesterday before a packed congregation, including local dignitaries, media, clergy from other Christian traditions, and school groups. Concelebrating clergy included Apostolic Nuncio Archbishop Charles Balvo, Maronite Bishop of Australia and New Zealand Bishop Antoine-Charbel Tarabay, Canberra-Goulburn Bishop Emeritus Pat Power, and many other archdiocesan and visiting priests.
Famed as the world's only church constructed of "greenstone", Archbishop Prowse noted that the word "beautiful" was the one most used to describe the "magnificent restoration".
"May this place and its surrounds become a beautiful pilgrimage centre that attracts pilgrims to Goulburn from far and wide," he said.
Parish priest Fr Joshy Kurien said his heart was filled with a "profound sense of gratitude" to the many who had contributed to what others have referred to as a "miracle restoration".
"Today marks an exciting day in the continuing story of this historic church … [that has] housed the faithful for over 150 years [bringing] together family and friends in times of joy and times of grief," he said.
For 84-year-old Barbara Young, the day had special significance. She's been coming to Sts Peter and Paul's since she was a child, accompanying her father, a choirmaster, and her mother, a soloist singer.
Reflecting on the thoughts of many at being present on the church's historic day, she said, "Oh, it's wonderful, wonderful".
FULL STORY
Large congregation honours historic reopening of Sts Peter and Paul's in Goulburn (By Don Smith, Catholic Voice)