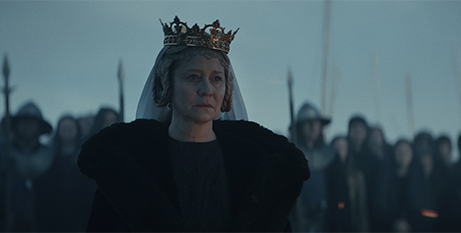 In Margrete, Queen of the North, a peace union has been achieved between the Scandinavian kingdoms, presided over by the 14th-century Danish queen. However, there is political intrigue and insurrection to destroy the union. Source: Jesuit Media.
This is a sombre dramatisation, as well as a reflection on the use, desire and exploitation of power.
Distinguished Danish actress Trine Dyrholm is the perfect embodiment of the Queen who has worked for peace and has been able to bring different factions together. This is illustrated in the opening long sequence where she makes a speech about peace and demands, in loyalty, a strong peacekeeping force from all the nations. And they agree, providing infantry and archers. And, significantly at this time of European history, the power of the Church and its influence is acknowledged.
So, by 1402 when this film is set, all seems well. There is a sad past with the death of the Queen's son, Oluf. Margrete brings the grandson of her sister from Germany, renaming him Erik, and sets him on the throne, young as he is.
At the core of the drama is political intrigue, betrayals within the court, the role of an influential Church leader and his influence on Margrete and her reliance on him and the planning of a marriage between Erik and an English princess. The plot thickens with the reappearance of Margrete's allegedly dead son.
This period drama requires constant attention to follow the steps of the intrigue.
Review by Fr Peter Malone MSC, Jesuit Media
Margrete, Queen of the North: Starring Trine Dyrholm, Soren Malling, Morten Hee Andersen, Magnus Krepper, Thomas W Gabrielsson, Agnes Westeerlund Rase, Paul Blackthorne. Directed by Charlotte Sieling. 120 minutes. Rated M (Nudity).
FULL REVIEW
Margrete, Queen of the North (Jesuit Media via Australian Catholics)