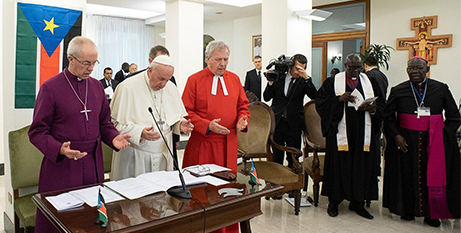 Pope Francis' postponed visit to South Sudan will go ahead in early February 2023, the Vatican has announced. Source: The Tablet.
The Pope will make an apostolic journey to the Democratic Republic of Congo, visiting the capital Kinshasa from January 31 to February 3, before travelling to Juba, South Sudan, for an "ecumenical pilgrimage of peace".
In South Sudan, the Pope will join the Archbishop of Canterbury, Justin Welby, and the Moderator of the General Assembly of the Church of Scotland, Iain Greenshields, for a series of events up to February 5.
These will include meetings in Juba's Freedom Hall with people displaced by famine and continued violence, and an ecumenical prayer service at the John Garang Mausoleum, the tomb of the leader of the Sudanese People's Liberation Army whose movement led to the foundation of South Sudan in 2011, six years after his death.
Pope Francis will also celebrate Mass at the mausoleum on the morning of February 5.
South Sudan has been afflicted by civil war since 2013, with Church leaders acting as mediators in the sporadic peace negotiations.
The joint visit was first proposed by Archbishop Welby in 2017. It had been scheduled earlier this year but was postponed after the Pope's doctors advised him not to travel due to knee problems.
The Vatican's Dicastery for Promoting Christian Unity described the visit as "an unprecedented ecumenical partnership".
"This shared pilgrimage, witnessing to their unity in Christ, the Prince of Peace, after centuries of historic division, will reflect the possibilities of peace and the promise of hope," said a dicastery statement.
FULL STORY
Pope's visit to South Sudan confirmed for February (By Patrick Hudson, The Tablet)