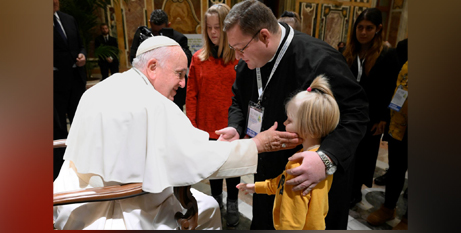 Making churches accessible and services understandable is important but having wheelchair ramps and sign-language interpreters is not enough for a parish to call itself "inclusive", Pope Francis said at the weekend. Source: CNS.
The Church also must meet people's needs for "belonging, relating to others and cultivating their spiritual lives so they experience the fullness and blessing of the Lord" for the "unique and marvellous gift" that they are, the Pope told a group of people with disabilities and those who minister with them.
The Pope's meeting with the group on Saturday marked the International Day for Persons with Disabilities; the Pope also issued a written message for the occasion.
In the meeting, Pope Francis called for the "conversion" of the Catholic community to move from using inclusion as a "slogan" to ensuring people with disabilities are welcomed, integrated, recognised and supported as full members of the community.
"There is no inclusion if the experience of fraternity and mutual communion is missing," the Pope said. "There is no inclusion if there is no conversion in the practices of coexistence and relationships."
Inclusion, he said, means "each person, with his or her limitations and gifts, feels encouraged to do his or her part for the good of the entire ecclesial body and for the good of society as a whole."
In his written message for the international day, Pope Francis focused on how Catholics with disabilities can teach others one of the central messages of the Gospel: human beings need God's love, mercy and strength.
FULL STORY
Being 'inclusive' of those with disabilities means valuing them, Pope says (By Cindy Wooden, CNS)