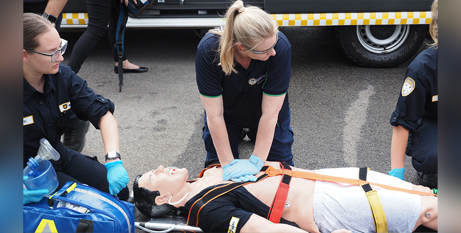 Helping to meet the growing demand for highly skilled paramedics in Western Australia is the aim of a new fast-tracked training program developed by The University of Notre Dame Australia. Source: The eRecord.
Enrolments are now open for the Graduate Diploma in Paramedicine, which will see its first group of about 50 students graduate by the end of next year.
Unlike undergraduate degree programs that take up to three years to complete, Notre Dame's diploma is the first post-graduate paramedicine program to be offered in WA.
It can be completed in just one year because students must already have completed a nursing degree and be registered to be eligible.
Notre Dame School of Medicine's Kylie Russell said that with countries such as the United Kingdom actively recruiting Australian paramedics and other states seeking to grow their workforces, the condensed training timeframe was an important part of the course's design.
"In line with Notre Dame's commitment to being part of the solution to the current staffing challenges confronting the health sector, this course has been specifically designed to provide a rapid injection of highly-skilled staff into the industry," Associate Professor Russell said.
"The other major benefit is that it provides nurses with the chance to build on their existing skillset and pursue new opportunities within the broader health sector, in the same way that nurses can currently complete 12 months of training to become midwives.
"Our students will also bring with them significant experience from having worked in a variety of health settings, making them highly attractive to prospective employers."
FULL STORY
Notre Dame to help boost WA's paramedic numbers (The eRecord)