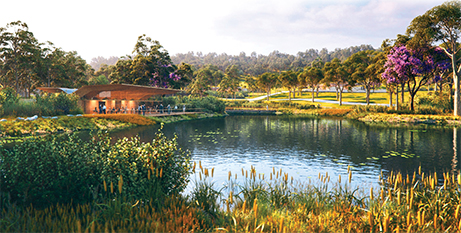 Construction on a memorial park with 136,000 plots is finally underway, marking Sydney's first new cemetery in 50 years. Source: Daily Telegraph.
The Macarthur Memorial Park will provide crucially needed burial space for Sydney's booming Muslim population, as well as Jewish and Christian Australians whose faith prohibits cremation.
"Thirty per cent of people will continue to be buried in Australia, so you will always have increasing demand in space," Catholic Cemeteries and Crematoria chief operating officer Lauren Hargrove said.
Construction on the much-needed memorial park was slated to begin in 2020 but was put on hold by the government after The 11th Hour report.
The ominously titled review of Crown cemeteries found existing sites would close to new internments within 10 to 12 years.
Construction on the Varroville site started this week, with 113 hectares of graves and open recreation space for the Western Sydney community.
The site will move away from traditional cemetery designs, aiming to reduce the appearance of gravestones and focus on the parklands.
"We will be adopting a successful overseas model where memorial parklands are now quiet and beautiful places of recreation for all the family, with groves of trees, lakes and open space. For all intents and purposes, they are not cemeteries but beautiful open spaces," CEO Peter O'Meara said.
"We will ensure that the burial plots are discreetly positioned inside bush-lined enclosures and the interment practices and beliefs of all religious and cultural groups are respected, with a state-of-the-art chapel and function centre."
FULL STORY
Construction has begun on the Macarthur Memorial Park cemetery (By Jessica McSweeney, Daily Telegraph)