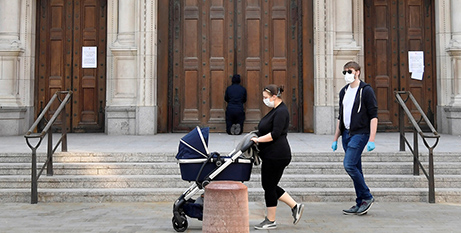 A new Pew Research Centre analysis finds that nearly a quarter of 198 countries and territories analysed used police and government force on religious groups who disobeyed COVID-19 worship restrictions. Source: The Christian Post.
The new analysis, published on November 29 and included in its 13th annual report on restrictions on religion from 2020, shows how public health measures during the coronavirus pandemic impacted religious groups during the year it hit globally.
"In nearly a quarter of countries, governments used physical force, such as arrests and raids, to make religious groups comply with COVID-19 public health measures," the Pew study reads.
The report suggests that at least one type of force was used against religious groups in at least 46 countries or territories. The use of force resulted in "detentions" in at least 40 countries or territories, "physical assault" in 11, "property damage, confiscation or raids" in 10, "displacements" in four and "deaths" in three.
The report found that in 69 countries, one or more religious groups defied public health measures imposed during the pandemic. In some countries, there have been multiple incidents of Christian groups being targeted for failing to comply with COVID-19 safety measures.
The Pew report also covers incidents in which private individuals or organisations have targeted different religious groups with accusations.
Pandemic-related social hostilities against religious groups, which involved physical violence or vandalism by private individuals or organisations, occurred in four different countries: India, Argentina, Italy and the United States.
FULL STORY
Nearly 1 in 4 countries used force on religious groups violating COVID-19 worship restrictions: Pew (By Nicole Alcindor, The Christian Post)
RELATED COVERAGE
Key findings about COVID-19 restrictions that affected religious groups around the world in 2020 (Pew Research)