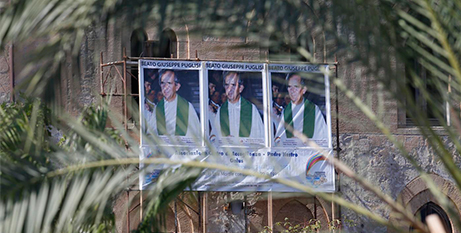 Italy's bishops conference for the southern region of Campania, notorious for its mafia activity, has announced the establishment of diocesan commissions to support and guide anti-mafia priests. Source: Crux.
Speaking at a conference held over the weekend to commemorate the anniversary of a major anti-mafia document, Bishop Antonio Di Donna of Acerra and president of Italy's Episcopal Conference of Campania (CEC) said the Church in the region "has not kept silent about the Camorra".
However, despite outspoken statements, Bishop Di Donna cautioned that "the words of denunciation coming from the Church in Campania in recent years and from the (Italian bishops' conference) on mafias and corruption have not adequately passed into our preaching".
"The social doctrine of the Church cannot be an 'optional' that we can do without in pastoral care," he said.
In this spirit, Bishop Di Donna announced the establishment of a special commission in each of the dioceses in the Campania "that supports priests, listens to them, and knows how to guide them" in their efforts to oppose organised crime.
This proposal was met with immediate approval by Giovanni Melillo, who since 2017 has served as the chief prosecutor of Naples – the capital of the Campania region and a traditional mafia hub – and who was recently named head of Italy's National Anti-Mafia and Anti-Terrorism Directorate.
Over the years, numerous priests have become targets of mafia violence for their public condemnations of mafia activities and individuals.
Perhaps the most famous of these is a Sicilian priest Fr Giuseppe "Pino" Puglisi, who was shot in the back of the head in September 1993 in the crime-ridden district of Brancaccio, where he had become known for his outspoken preaching against the mafia. He was beatified in May 2013.
FULL STORY
Italy's southern bishops gear up to support anti-mafia priests (By Elise Ann Allen, Crux)