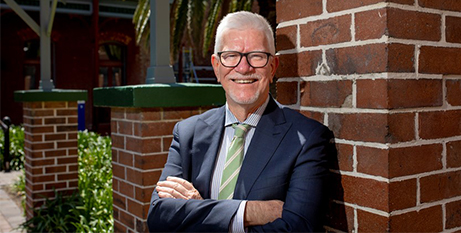 Almost 50 years ago, a young Gerard Mowbray threw on his safari suit and took up his first teaching post at St Mary's High, Gateshead, New South Wales – an all-girls school led by the Josephite Sisters. Source: MNnews.Today.
"I was 22 years old and very green," he said. "Very quickly I became aware of how challenging the profession was, and still is, but it soon dawned on me what a privileged position I was in, helping to shape the lives of young people, and that's stayed with me ever since."
Mr Mowbray made history that day as one of the first men to teach at St Mary's and now, 46 years later, is just weeks away from concluding his career as the Director of Catholic Schools for the Maitland-Newcastle Diocese.
In his final term as director, Mr Mowbray set his sights on meeting with every one of the Diocese's 58 school communities. "It's important for me to let them each know how much I respect them and value the work they are doing," he said.
His leadership qualities were recognised early and by age 29, he had accepted a role as assistant principal at St Joseph's High School in Aberdeen, effectively ending his plans of becoming an academic.
Over the next 24 years, Mr Mowbray held various leadership roles in schools across the diocese including St Clare's High School in Taree, San Clemente High School in Mayfield, St Paul's High School in Booragul and All Saints' College, St Mary's Campus in Maitland.
"I always felt that I would end up where I was intended to end up, that I would be guided by the Holy Spirit … and so I am really thrilled that I am able to finish my career at the highest level I could in Catholic education in the diocese."
The Diocesan community will farewell Gerard Mowbray at a Mass at Sacred Heart Cathedral today at 4.30pm.
FULL STORY
Join us at the Farewell Mass of the Director of Catholic Schools (By Lizzie Watkin, MNnews.Today)
RELATED COVERAGE
Catholic Schools Office director Gerard Mowbray steps down after 46 years with diocese (Newcastle Diocese)