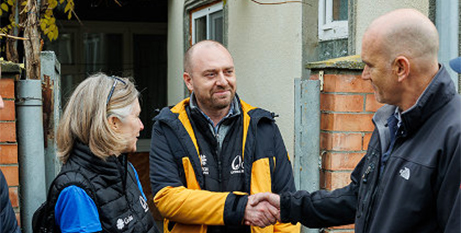 Australia's ambassador to Ukraine, Bruce Edwards, has visited Caritas Australia's partner in Moldova to meet families that have welcomed Ukrainian refugees.
Since February, more than 7 million Ukrainians have been forced to flee their homes, in the largest European migration in decades. The small country of Moldova is one of the poorest in Europe, yet it is now home to over 90,000 Ukrainian refugees. Caritas Australia has been working with its partner Catholic Relief Services Moldova to support Moldovan families to take in Ukrainian refugees.
Mr Edwards met with CRS Moldova staff to learn about the program and visited the homes of several Moldovans who had welcomed Ukrainians into their homes.
"It is awe-inspiring how Moldovans have opened their homes. For such a small country to exhibit such generosity is an inspiration to all of Europe," he said.
The CRS Moldova Safe and Dignified Accommodation program helps families fleeing the conflict in Ukraine to find long-term and safe accommodation in Moldova. The program also provides financial support for host families who are housing Ukrainian refugees in their homes.
The program has reached 1600 Moldovan households that have been supported with incentives for hosting refugees, and as a result, more 10,000 Ukrainian refugees are now living in safe, dignified transitional accommodation.
FULL STORY
Australian Ambassador for Ukraine visits Caritas Australia's partner, CRS Moldova (Caritas Australia)