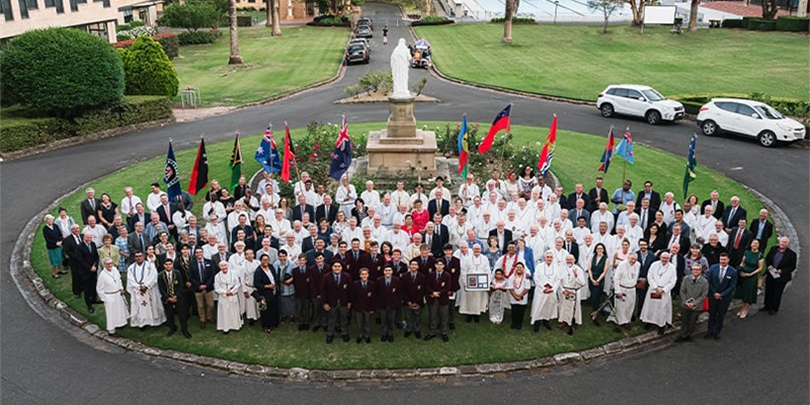 In the most significant change in the society's 205-year-history, the Champagnat Marist mission is charting a new course in the Oceania region. Source: The Catholic Weekly.
Eleven Pacific nations including Australia and New Zealand have amalgamated to become the Star of the Sea Province, the largest and newest of the Marists' 25 provinces internationally.
Regarded as a pilot program, it is being watched by others within the movement worldwide and with a presence in 78 countries across five continents, is tipped to be the first of many new Provinces to be established due to a global decline in vocations and the aging religious landscape.
Officially instituted by Superior General Br Ernesto Sánchez-Barba FMS at a Mass on The Feast of Our Lady's Immaculate Conception at St Joseph's Hunters Hill, the new Province takes in Australia, Cambodia, Fiji, Kiribati, New Caledonia, New Zealand, Papua New Guinea, Samoa, Solomon Islands, Timor-Leste and Vanuatu.
Superior General Br Ernesto said the amalgamation was a way of looking to the future while retaining its rich history. He said the restructure was a way of ensuring the viability and vitality of Marist life within Oceania with the help of the large lay community.
New provincial Br Peter Carroll said never in his wildest dreams could he believe he would one day be the provincial in the Society's largest province.
"If you had told me I would be the provincial of 11 nations I would have laughed, I thought coming to Sydney from Brisbane when I joined was a great adventure," he smiled.
"This is probably the biggest thing to happen within the Marist movement in our 205 years and something that will take time, maybe even years to filter through."
FULL STORY
Marists look to the future (By Debbie Cramsie, The Catholic Weekly)