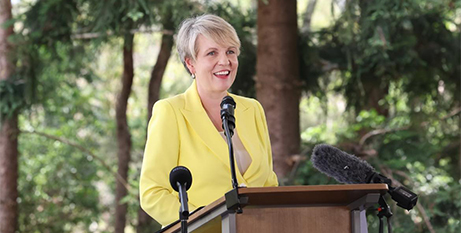 Catholic Religious Australia says the Albanese Government's announcement of a new Environment Protection Agency and pledge to reform current environment laws is a "step in the right direction".
Environment Minister Tanya Plibersek last week committed the government to sweeping new national environmental standards against which it could measure the value of conservation, protection and major development applications, The Catholic Leader reported.
It comes two years after the former competition watchdog head Graeme Samuel delivered a review to the former Morrison Government. The Coalition never formally responded to the Samuel Review.
CRA made a submission to a Senate inquiry in March 2021 calling on the previous government to introduce "stronger National Environmental Standards" and to "take more seriously the recommendations of Professor Samuel's final report" in developing these standards.
In a statement, CRA said it applauded the Government's commitment to developing legally binding national standards for all environmental decisions that will be enforceable by a newly established federal Environment Protection Agency.
"The introduction of legally binding national standards is a step in the right direction towards addressing a great crisis of our time, the destruction of our lands and waters. Time is limited, so we must act now," said CRA president Fr Peter Jones OSA.
CRA also welcomed the introduction of a national standard on First Nations engagement to ensure Indigenous people are properly consulted and involved in decisions affecting their country and customs.
While the Government's announcement is an important first step, CRA said it "expresses reservations around the exclusion of a climate trigger in the national standards and the establishment of an offset fund".
FULL STORY
CRA applauds major reforms to Australia's environment laws (CRA)
RELATED COVERAGE
Landmark overhaul of national environmental laws (The Catholic Leader)