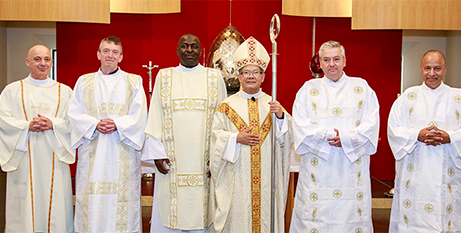 Five married men from Western Sydney and the Blue Mountains have been ordained for the permanent diaconate of the Parramatta Diocese. Source: Catholic Outlook.
Parramatta Bishop Vincent Long OFM Conv ordained Charles Abela, David Dowling, Jerome D'Rozario, Batsirai Maringehosi and Alan Skofic to the permanent at St Patrick's Cathedral, Parramatta, on December 10.
During his Homily, Bishop Vincent Long explained that during the Second Vatican Council, the diaconate was "no longer under the shadow of the priesthood," and described deacons as "active" ministers, not just "'flower pots' on the sanctuary".
In referring to the 2022 National Deacons Conference, which the diaconate in Parramatta hosted, Bishop Long said that the diocese provided the opportunity to show "the rest of the country how this ministry could transform individuals, communities and the Church as a whole".
He added, "we need the ministry of diaconate that is modelled on Christ the humble servant. As Pope Paul VI declared, the diaconate is the driving force for the Church's own diakonia".
"I would add also that the diaconate, with its characteristic embodiment of the Church in its fundamental expressions of service, mutuality and immersion in secularity, has a potential to reset the ordained ministry towards a better future," he said.
In his Note of Gratitude on behalf of the newly ordained deacons, Deacon Jerome D'Rozario said: "The role of deacon is service, and as we promise to give ourselves wholeheartedly to the service of God's holy Church, we ask you all to pray for our families and us."
FULL STORY
Diocese celebrates a great joy as five men ordained to permanent diaconate (By Mary Brazell, Catholic Outlook)