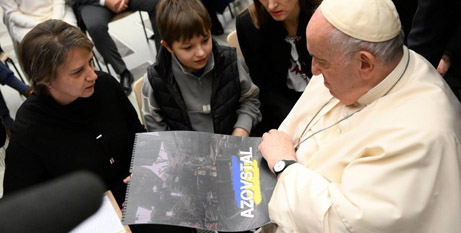 Pope Francis has again asked for prayers for the children of Ukraine this Christmas as he greeted a Ukrainian woman whose husband is a prisoner of war and their son, following his Wednesday audience. Source: Vatican News.
Larissa and Sergheii spent some time with the Pope in the Paul VI Hall after the General Audience and gave him a calendar for 2023 showing the devastation of the Azovstal steelworks plant.
The Pope took time to look at the confronting images, leafing through the calendar's pictures one by one. They are images of destruction and sorrow, bearing stark witness to the tragedy of the population of Mariupol, the martyred city in the southeast of the country besieged by the Russian army for months.
Emblazoned with the word "Azovstal" in memory of the Ukrainian resistance inside the steelworks factory, the calendar also represents a token of hope that 2023 might be a year of peace for Ukraine.
Larissa also handed the Pope a list of the names of Ukrainian prisoners, in the hope it may facilitate their release or at least an improvement of their conditions in detention. Larissa's husband is one of an unknown number of Ukrainian prisoners of war.
Following his continued catechesis on discernment during his Audience, Pope Francis urged Catholics not to forget the many children in Ukraine this Christmas who are suffering, CNA reports.
"On this feast of God becoming a child, let us think of Ukrainian children … These children bear the tragedy of that war, which is so inhuman, so harsh," he said.
"Let us think of the Ukrainian people this Christmas, without electricity, without heating, without the main things necessary to survive, and let us pray to the Lord to bring them peace as soon as possible."
FULL STORY
Pope meets with wife and son of Ukrainian prisoner of war (Vatican News)
Pope Francis: Let us think of the Ukrainian children without heat this Christmas (By Courtney Mares, CNA)