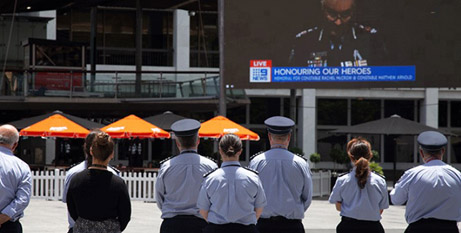 Queensland has farewelled Constables Rachel McCrow and Matthew Arnold, the two police officers killed in last week's horrific Wieambilla siege, in a public memorial service at the Brisbane Entertainment Centre. Source: The Catholic Leader.
The ceremony was broadcast live in Brisbane's King George Square, where fellow officers and members of the public paid their respects.
During the service, Queensland Police Commissioner Katarina Carroll commended the fallen officers for their bravery.
"I am honoured to stand here today representing the Queensland Police Service to deliver the valedictory for our colleagues, Constable Rachel McCrow and Constable Matthew Arnold, who served the community of Queensland and our organisation with great integrity, compassion and dedication," she said during the memorial service.
Commissioner Carroll posthumously awarded the constables with the Queensland Police Valour Medal, the National Police Service Medal and National Medal.
Police chaplain Jeffrey Baills condemned last week's attack and gave his deepest condolences to the Arnold family and the McCrow family.
"Ladies and gentlemen, what happened on December 12 was un-Australian and does not belong in this country," he said.
"It was abhorrent, it was not of God. It was absolute evil."
Chaplain Baills asked the police community to "be kind to yourself".
"Please look after your work colleagues," he said.
"Please support one another. And wherever you are in this state, please raise your hand if you need help."
Thousands of officers stood shoulder to shoulder outside the entertainment centre to salute the fallen officers in a guard of honour.
FULL STORY
Fallen Queensland police officers honoured in public memorial (By Hannah Kennelly, The Catholic Leader)