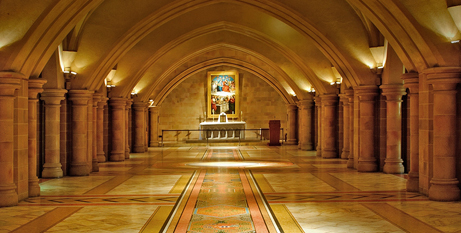 It's a nearly 100-year-old ornate crypt with "one of the finest mosaic floors in the world" and soon it will be the final resting place for Cardinal George Pell. Source. ABC News.
Cardinal Pell died on Tuesday in Rome aged 81 from a heart attack following hip surgery.
Following his funeral Mass last Saturday in St Peter's Basilica, Rome, Cardinal Pell's body will be repatriated to Sydney and join seven other former archbishops whose remains are buried in the crypt below St Mary's Cathedral in Sydney's CBD.
Cardinal Pell served as the eighth archbishop of Sydney between 2001 and 2014, when he left to take over the Vatican's finances.
It was reported in 2018 that a mausoleum was being prepared for Cardinal Pell beneath St Mary's in the event of his death.
The crypt, built in the 1930s, is the resting place of some of the most high-profile Australian Catholic figures.
They include the first archbishop of Sydney, John Bede Polding, who died in 1877, long before the crypt's completion in 1961.
His remains were later moved to St Mary's, as were the bodies of others who died before the crypt's conception.
The first colonial chaplain, Fr John Joseph Therry, who in 1821 was granted the land on which St Mary's Cathedral was built, is now buried there.
Cardinal Norman Thomas Gilroy, a former Sydney archbishop and Australia's first cardinal, is also buried beneath the College Street cathedral.
The dimly lit caverns are adorned with tiled flooring depicting religious iconography.
Intricate slabs placed over each tomb feature inscriptions highlighting the achievements of the person below.
FULL STORY
St Mary's Cathedral crypt in Sydney to be George Pell's resting place (By Harriet Tatham and Heath Parkes-Hupton, ABC News)