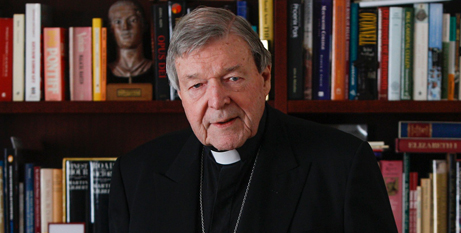 Church and community leaders have expressed shock and sadness at the unexpected death of Cardinal George Pell in Rome last week, but paid tribute to him as a man of faith who provided strong and clear leadership.
Bishops were joined by prime ministers past and present in marking the death of the man regarded as Australia's most prominent Church-man ever, both in Australia, as archbishop of both Melbourne and Sydney Archdioceses, and on the world stage, where he was appointed by Pope Francis to be Prefect for the Economy at the Vatican.
The Pope expressed his sorrow in a telegram upon learning of the Cardinal's death.
He recalled Cardinal Pell's "consistent and committed witness, his dedication to the Gospel and to the Church, and especially his diligent collaboration with the Holy See in its recent economic reform, for which he laid the foundations with determination and wisdom".
Australian Catholic Bishops Conference President, Archbishop Timothy Costelloe SDB, said it was with "great sadness" that he learned of the unexpected death of Cardinal Pell in Rome on Tuesday evening (Rome time).
"Cardinal Pell provided strong and clear leadership within the Catholic Church in Australia, as Archbishop of Melbourne and Archbishop of Sydney and as a member of the Bishops Conference for more than 25 years," Archbishop Costelloe said.
"His many strengths were widely recognised, both in Australia and around the world, as his Vatican appointments as Prefect of the Secretariat for the Economy and as a member of the Council of Cardinals, an advisory group to Pope Francis, testify.
"Cardinal Pell's impact on the life of the Church in Australia and around the world will continue to be felt for many years."
Cardinal Pell's successor in Sydney, Archbishop Anthony Fisher OP, said he too, was deeply saddened at the Cardinal's sudden passing, after having spent time with him the previous week when in Rome to attend the funeral of emeritus Pope Benedict XVI.
"Cardinal Pell's episcopal motto was 'Be Not Afraid' and through good days and bad, he lived up to these words as a man of courage and with a big heart, who trusted in divine providence," Archbishop Fisher said in a statement.
"He fearlessly proclaimed the Gospel and worked to explain the teachings of the Church. He spoke truth as he found it, however difficult or unpopular. He was also a man of prayer, of deep Christian faith and a loving shepherd to his flock in parishes, schools, hospitals and throughout his dioceses."
Archbishop Fisher spoke of Cardinal Pell's vision in bringing World Youth Day to Sydney in 2008 and the positive faith impact it had. He said Cardinal Pell was an author of books and a regular newspaper columnist, a lecturer and leader in Catholic education, and a scholar in his own right. He served the broader Church as a member of the Congregation for the Doctrine of the Faith, the Vox Clara Commission, the Pontifical Council for the Family and the Congregation of Bishops.
"His final years were marked by his wrongful conviction and imprisonment, but he bore this with grace and goodwill and gave us all an example of how to accept suffering with dignity and peace. His words of reconciliation with his detractors and concern for survivors increased in authenticity as he steadfastly and successfully maintained his innocence," Archbishop Fisher said.
"He will be remembered as a courageous leader who inspired so many clergy and lay faithful around the world to proclaim Christ crucified, risen and with us still."
Melbourne Archbishop Peter A. Comensoli said Cardinal Pell was "one of the great Church men of Australia, and internationally" and a "forthright defender of the faith".
Prime Minister Anthony Albanese expressed condolences to the Catholic community.
"For many people, particularly of the Catholic faith, this will be a difficult day, and I'll express my condolences to all those who are mourning today," he said.
Opposition Leader Peter Dutton said: "Our nation has lost an important intellectual figure and a towering presence in the Catholic community".
Former prime ministers John Howard and Tony Abbott also expressed sadness and said the nation had lost an important spiritual and intellectual contributor.
FULL STORY
Statement on the death of Cardinal George Pell (ACBC)
Cardinal Pell fearlessly proclaimed the Gospel (Archbishop Anthony Fisher OP/Catholic Weekly)
Pope mourns passing of Cardinal Pell, upholds his cooperation with Holy See (Vatican News)
Melbourne Archbishop Peter Comensoli pays tribute to a 'great gospel man' (ABC News)
George Pell's death will be felt 'by Catholics around the world' (ABC News)
Tony Abbott: Cardinal Pell's final years 'a modern crucifixion' (Catholic Weekly)
John Howard remembers 'strong and determined religious leader' (ABC News)
RELATED COVERAGE
Archbishop Coleridge reflects on the extraordinary life of Cardinal Pell (Catholic Leader)
George Pell was a true giant of the church (The Australian)
ACU mourns the death of Cardinal George Pell (ACU)
Cardinal George Pell dies, aged 81, after complications from hip surgery (SMH)