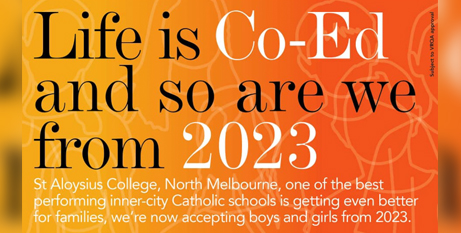 One of Melbourne's oldest girls' schools will welcome its first boys next week, in a shift to co-education that its principal says will bring students into "an environment that more closely resembles the real world". Source: The Age.
St Aloysius College in North Melbourne has exclusively educated girls since the 1880s but will soon greet an intake of more than 50 year 7 boys, alongside about 80 new girls.
College principal Mary Farah said the move was "based upon changing needs and changing times".
St Aloysius' shift has delivered an instant boost in numbers at the school, which had previously been losing enrolments but will welcome 135 new students this year, roughly double last year's intake. Forty-two per cent of the new arrivals are boys, the school said.
In 2019, another one of Melbourne's oldest girls' schools, Presentation College Windsor, abruptly announced it would close because of unsustainably low enrolments. Neighbouring boys' school Christian Brothers College ultimately took in almost 100 girls from the closed school and changed its name to St Mary's College to signify its new co-ed status.
St Aloysius' decision in 2020 to commit to going co-ed is unusual among single-sex schools in Melbourne, where boys' schools have been far more likely to make the switch.
FULL STORY
One of Melbourne's oldest girls' schools welcomes boys for first time (By Adam Carey, The Age)