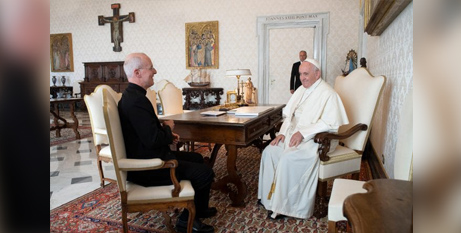 Pope Francis has written a letter to clarify his comments on sin and homosexuality from a recent interview with the Associated Press. Source: CNA.
"When I said it is a sin, I was simply referring to Catholic moral teaching, which says that every sexual act outside of marriage is a sin," the Pope wrote to American Jesuit Fr James Martin in response to a request for clarification.
Francis said he was trying to say in the interview that criminalisation of homosexuality "is neither good nor just."
"As you can see, I was repeating something in general," he wrote. "I should have said 'It is a sin, as is any sexual act outside of marriage.' This is to speak of 'the matter' of sin, but we know well that Catholic morality not only takes into consideration the matter but also evaluates freedom and intention; and this, for every kind of sin."
Fr Martin published the Pope's Spanish-language letter and an English translation on the website of Outreach on Friday. Fr Martin is the editor of Outreach, which describes itself as "an LGBT Catholic resource" operating under the auspices of America Media.
In an interview published January 25 by AP, Pope Francis said: "Being homosexual is not a crime. It's not a crime. Yes, but it's a sin. Fine, but first let's distinguish between a sin and a crime."
The Outreach article posited that the Pope's comment that "yes, but it's a sin" was intended to be from a hypothetical interlocutor to whom Pope Francis was responding.
In his letter, Pope Francis ascribed the confusing statement to the conversational tone of the interview.
"It is understandable that there would not be such precise definitions," he said.
FULL STORY
Pope Francis clarifies comments on sin and homosexuality (By Hannah Brockhaus, CNA)