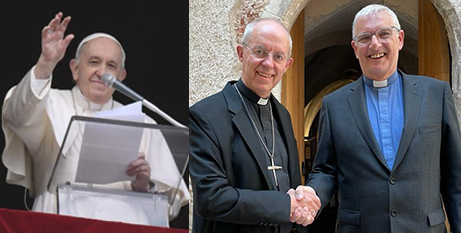 Pope Francis has invited Christians to pray for his papal visit to the Democratic Republic of Congo and South Sudan this week, saying the African nations have suffered greatly from lengthy conflicts. Source: Vatican News.
Pope Francis sets off tomorrow as a "pilgrim of peace" to the Democratic Republic of Congo and South Sudan, January 31 to February 5.
Ahead of his 40th Apostolic Journey abroad, the Pope read out a message to the people of the two African nations during his Sunday Angelus address.
He thanked the civil authorities and bishops of both countries for their invitations and the preparations they have made for his visit.
The Pope also offered a heartfelt greeting to "those beloved peoples who await me".
"These lands have suffered greatly from lengthy conflicts."
Pope Francis noted that the DRC "suffers from armed clashes and exploitation", especially in the east of the country.
South Sudan, he said, has been "wracked by years of war" and "longs for an end to the constant violence that forces many people to be displaced and to live in conditions of great hardship."
In his message, the Pope recalled that he will arrive in South Sudan accompanied by Anglican Archbishop Justin Welby and Rev Dr Iain Greenshields.
"In South Sudan, I will arrive together with the Archbishop of Canterbury and the Moderator of the General Assembly of the Church of Scotland. Together, as brothers, we will make an ecumenical pilgrimage of peace."
Pope Francis wrapped up his message with an appeal for everyone to accompany his Apostolic Journey with their prayers.
FULL STORY
Pope urges prayers for 'pilgrimage of peace' to South Sudan & DRC (By Devin Watkins, Vatican News)
RELATED COVERAGE
Preaching peace amid violence: Pope heads back to Africa (CNS)