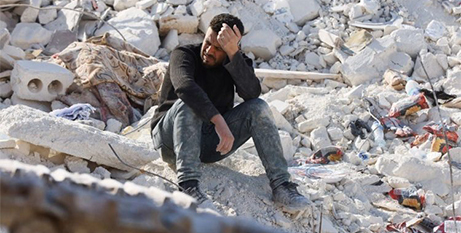 Pope Francis sent 10,000 thermal shirts to earthquake victims in Türkiye and Syria, where millions are sleeping outdoors in sub-zero temperatures. Source: NCR Online.
Figures released yesterday show more than 40,000 people were killed following the two earthquakes that devastated the region on February 6.
According to the Vatican, the winter clothing was personally transported to the port of Naples, some 185kms south of Rome, by papal almoner Cardinal Konrad Krajewski on Tuesday.
The shirts are scheduled to arrive in Türkiye tomorrow and be delivered to the Kilis refugee camp in southern Türkiye, which has hosted refugees fleeing the civil war in Syria since 2012 and currently holds some 60,000 people.
The Vatican said Francis also sent an undisclosed amount of financial aid to the apostolic nunciature in Syria to support the Syrian people "already exhausted by so many years of war and now by the devastating earthquake".
Turkish Vice President Fuat Oktay said that over one million people in Türkiye are living in temporary housing facilities, such as tents and shipping containers, as of February 11. The United Nations refugee agency, UNHCR, estimated that as many as 5.3 million people could be left homeless in Syria as a result of the earthquakes. In February, night-time temperatures in the region consistently fall below -1.1 degrees Celsius.
The Pope's donation comes as the pontifical charity Aid to the Church in Need reports it has sent $770,000 in material aid to Christians in Syria following the natural disaster.
Given the many years of war and the economic collapse of Syria, the organisation already had projects in place and partners in cities such as Aleppo and Lattakia, which have considerable Christian communities and were badly affected by the quake.
To make a donation or learn more, visit www.aidtochurch.org/syriaearthquake
FULL STORY
Pope sends winter clothing to earthquake victims in Turkey and Syria (By Justin McLellan, CNS via NCR Online)