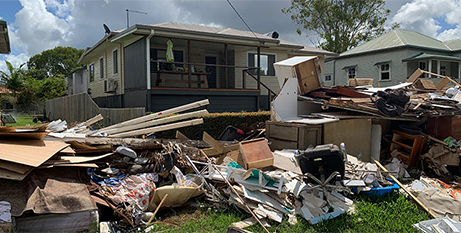 A year after record floodwaters devastated Lismore, the Northern Rivers town is rebuilding, even though it's happening at a frustratingly slow pace for many residents. Source: The Catholic Leader.
Yet there is a sense of hope in the tight-knit community.
"This is a flood town, and it's the kind of place where no matter what your background we help each other," Lismore Diocese director of communications Joe Pereira said.
"It stretched people and in most cases it brought out the best in people."
Residents yesterday paused for a public recognition for the "tinnie army" – local boaties who spearheaded a community-led rescue effort and ferried hundreds of people from rooftops to safety on February 28, 2022, and a Church-supported "Service for the Gathering of Reflection and Healing", at which Lismore's Bishop Greg Homeming OCD led the community in prayer and delivered a speech titled "Heart to Serve".
"It is still so emotional," Lismore mayor Steve Krieg told the ABC.
"We have thousands of people living in temporary accommodation, they're paying mortgages on houses that are unliveable. The businesses they worked in were so badly affected as well.
"We hope that everyone rallies around each other and we'll get through today and look towards the future and rebuilding."
Lismore has endured 29 major floods since the 1870s, but last year's disaster was unprecedented.
The floodwaters flowed after a month of record rain raised Wilsons River to a record high of 14.4 metres, even lapping into the St Carthage's Cathedral that stands on a sizeable hill.
The deluge killed five people, left more than 4000 homes uninhabitable and wiped out nearly every business in the central business district.
FULL STORY
Lismore flood one year after: residents looking for hope (By Mark Bowling, The Catholic Leader)