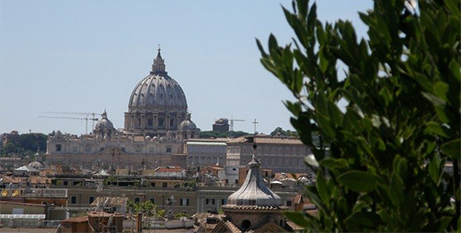 Pope Francis has cut housing perks for Vatican managers and cardinals in order to save the Church money. Source: CNA.
Reuters and Vatican News reported on March 1 that cardinals and other high-level positions at the Vatican will no longer be able to live in Vatican-connected apartments for free or at special prices.
The Vatican owns an extensive amount of real estate both in and outside Vatican walls. Apartments are principally managed by APSA (the Administration of the Patrimony of the Apostolic See).
The Pope's decision to drop housing benefits for upper management was communicated in a note from the Vatican's new prefect of the Secretariat for the Economy, Maximino Caballero Ledo. The note, called a rescriptum ex audientia, was posted in the San Damaso Courtyard inside Vatican City, according to Reuters.
The rescript, which was posted in the Vatican following a February 13 meeting with Pope Francis, says housing perks for high-level Vatican officials are being cut to meet the growing needs of the Church in an economic context "of particular gravity".
Mr Ledo's note asks "everyone to make an extraordinary sacrifice to allocate more resources to the mission of the Holy See, also by increasing revenue from the management of the real estate patrimony".
The decision comes two years after Pope Francis announced he was cutting cardinals' salaries by 10 per cent in March 2021.
The pay of other high-ranking officials and employees of the Holy See and Vatican City State was reduced by 8 per cent, and some clergy and religious employed by the Vatican had their salaries lowered by 3 per cent.
Cardinals, dicastery heads, presidents, secretaries, undersecretaries, managers, and auditors of the Tribunal of the Roman Rota are all affected by the new housing policy.
FULL STORY
Pope Francis cuts free and discounted rent for cardinals, Vatican managers (By Hannah Brockhaus, CNA)
RELATED COVERAGE
Rescript on the use of properties referring to the Holy See (Vatican News)