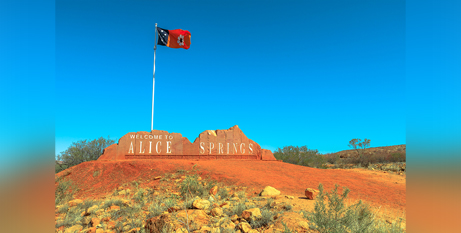 Faith communities in Alice Springs are working together with local elders to respond in practical and spiritual ways to the growing youth street crime crisis in the Central Australian city. Source: In The Word.
Our Lady of the Sacred Heart parish priest Fr Prakash Menezes SVD said the first step in responding to the situation is to understand the deep-seated social issues at play.
Fr Menezes, together with Fr Alfonsus Nahak SVD of the Arrernte Catholic Chaplaincy, Darwin Bishop Charles Gauci and SVD seminarian Shehan Fernando, attended a meeting with the local Uniting Church pastors and Moderator for the Northern Territory Synod of the Uniting Church last month to discuss the situation. The Alice Springs Ministers' Fraternal met last week to find ways for faith communities to work together.
"At the meeting with the Uniting Church we talked about the reality of why these things are happening on the streets and it's because children are not feeling safe in their homes," he said.
"They are also bored, with nothing to do, no activities for them.
"But this is just surface-level. Deep down, this problem didn't start today or yesterday, it's been brewing for at least the last 20 years and what we are seeing today is just the tip of the iceberg in terms of the actual problem."
The faith communities response comes as alcohol bans have been brought in for many areas around Alice Springs in a bid to curb violence and property crime.
Fr Prakash said the faith leaders felt that at the core of the problem was the question of identity.
"These young people are struggling to identify who they are and to name that," he said. "There is also a spiritual vacuum and identity is also connected to this.
"We felt that as a church community, we can respond to that and walk with the young people."
Fr Olivier Noclam SVD of the Arrernte Catholic Chaplaincy said that any response must include Aboriginal community leaders and focus on the family.
FULL STORY
Faith communities join together in responding to Alice Springs youth crisis (In The Word)