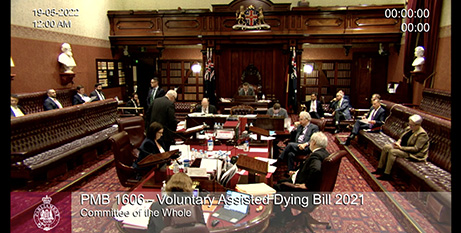 Ahead of the March 25 New South Wales state election, some upper house candidates have been pitching directly to faith communities to cast a vote for them to keep the government accountable on key issues. Source: The Catholic Weekly. 
Among the candidates vying for one of 21 seats in the upper house or Legislative Council is the former managing director of the Australian Christian Lobby, Lyle Shelton, who is contesting the election as an independent.
Mr Shelton believes faith-based values, especially around important pro-life matters, have been seriously undermined by both sides of politics in NSW in the last Parliament.
"We saw the Liberal-National Coalition government essentially allow bills to pass Parliament allowing both abortion and euthanasia over recent years", Mr Shelton said.
"As the government, they decide what private members bills are given debating time and they allowed this to be given time and currency in the Parliament and there was no coordinated resistance".
One Nation Leader Mark Latham is re-contesting his seat with a promise to protect faith-based organisations and people of faith against discrimination.
Mr Latham, a former federal Opposition Leader, left the Labor Party in 2018, disgruntled over the party's failure to introduce religious freedom and religious anti-discrimination laws in NSW.
Since his election, Mr Latham has campaigned strongly for such laws in NSW, but has so far failed to win over sufficient support for the laws in the upper house.
If re-elected, he has said he would continue to be a strong advocate for people of faith, especially for parents who wish to pass on faith-based values to their children.
Mr Latham's running mate is a former Labor MP for Bankstown, Tanya Mihailuk, who co-chairs the Parliamentary Friends of Religious Freedom.
FULL STORY
Candidates pitch to voters of faith (By Michael Kenny, The Catholic Weekly)