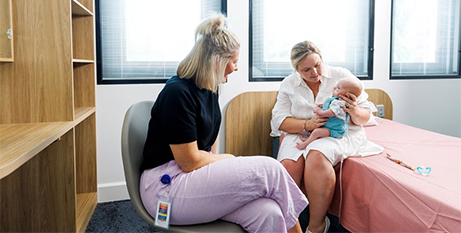 Mothers and families experiencing severe postnatal depression and other mental illnesses will be cared for, with their babies, in Queensland's first dedicated perinatal mental health centre. Source: The Australian. 
Catherine's House for Mothers, Babies and Families at the Mater Mothers' Hospital's South Brisbane campus will triple the number of hospital beds for parents suffering perinatal mental health problems.
One in five new mothers and one in 10 fathers experiences mental health problems in the weeks after their baby's birth, and many struggle to find help.
Problems can be as severe as postpartum psychosis but more common are postnatal depression and anxiety, which can affect attachment and bonding.
Grace Branjerdporn, research and clinical lead at Catherine's House said the new centre "is really addressing a huge gap and an unmet community need".
The Mater Foundation raised $17 million in community donations to renovate and convert the former convent at Mater Hill. The Sisters of Mercy who founded the Mater lived there from the 1920s until 2014 when the convent was damaged in a large hailstorm.
The Queensland Government contributed $7m to the capital works and is now providing $11m in annual operational funding for eight public beds in Catherine House's inpatient unit, which will have 10 beds in total.
The facility will also support hundreds of new Queensland families each year with day programs, group and individual treatments, home visiting services and emotional support.
Mater Health chief executive Donna Bonney said the Sisters of Mercy were delighted with the new purpose for their old convent.
"The Mater has always been a place for women and babies, it's like coming full circle, it's a place of healing and recovery for women," Ms Bonney said.
FULL STORY
'Place of healing' for struggling parents in Queensland (By Natasha Robinson, The Australian)
RELATED COVERAGE
Olivia's Race Day supports first-of-its-kind mental health service (Mater)