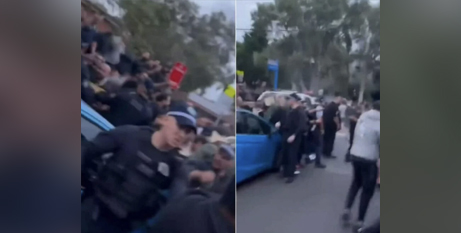 Sydney Archdiocese has condemned violent behaviour on Tuesday by protesters outside St Michael's, Belfield, describing it as "unacceptable". Source: The Catholic Weekly.
About 15 activists from the "Community Action for Rainbow Rights" group arrived to protest outside a pre-election forum by One Nation leader Mark Latham, held at the parish.
The protesters allegedly tried to block access to the parish and were set upon by hundreds of counter-protesters, mostly men, outside the church.
Two people were arrested and a police officer was taken to hospital.
"The people who acted violently outside St Michael's, Belfield, were not members of the local parish community," the Sydney Archdiocese's spokesperson said.
"The Catholic Church teaches that all people should be treated with dignity and respect. Violent acts towards anyone is incompatible with the Gospel and never acceptable.
"For Christians and for all Australians, the events that occurred do not represent who we are and must be condemned."
Footage posted on social media showed police trying to disperse the angry crowd, which at its height reached about 500.
The Public Order and Riot Squad were then called, as glass bottles, rocks and punches were allegedly thrown. One officer was injured after being struck on the hand and taken to hospital in a stable condition.
Premier Dominic Perrottet also condemned the violence, saying it "is not acceptable in any form, anywhere in NSW."
Police confirmed that two people had been arrested and charged following the protest.
FULL STORY
Catholic Archdiocese of Sydney condemns violent protests at St Michael's, Belfield (By Debbie Cramsie, The Catholic Weekly)