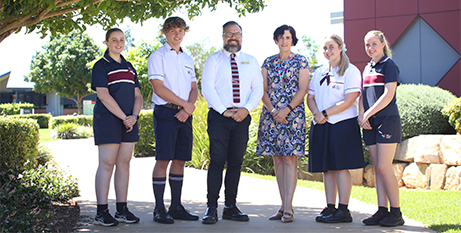 A religious education project operating in some Toowoomba Catholic schools is "lighting the way" for teachers to foster the religious life of their school.
In 2021, the Toowoomba Catholic Schools Office launched the Illuminate Religious Education project to empower the teacher as a witness, specialist, and moderator in teaching religion.
Fifteen of the 31 schools in the Toowoomba Diocese have adopted Illuminate RE as the strategy for the school to have expert teachers in RE. The intent is that students experience academic success while they come to know and encounter Christ in their everyday life.
Through the teaching and learning of sacred Scripture, Catholic tradition, Catholic social teachings and prayer, students engage in authentic dialogue on contemporary issues from a Catholic worldview.
Angela Travers, senior leader of mission and identity at TCSO, said the Illuminate RE project is shining a spotlight on the teaching of RE in classrooms, accentuating the Catholic faith experience for students of all ages.
"The Illuminate project assists our Catholic schools across the Toowoomba Diocese in enhancing the Catholic identity and religious education in the school or colleges. We offer support to enable our teachers to become the best they can be at teaching religion in their classroom," Ms Travers said.
"It allows teachers to develop their practice so that they can bring the Catholic identity to life for their students. The goal of the project is to help teachers become more confident in their delivery and understanding of RE so that their students develop the capacity to live a faith-filled life and are more confident to live in a way that brings to life the values of the Gospel."
Chris Gabbett, principal of Mary MacKillop Catholic College in Highfields, said: "The Illuminate project provides absolutely essential professional development for the effective running, leadership and success of an authentic Catholic College."
PHOTO: Lilly Hayes, left, Jezziah Berry, Chris Gabbett, Angela Travers, Elise Scrivens and Hannah Rosenthal (Toowoomba Catholic Schools)
FULL STORY
Toowoomba Catholic Schools light the way (Toowoomba Catholic Schools)