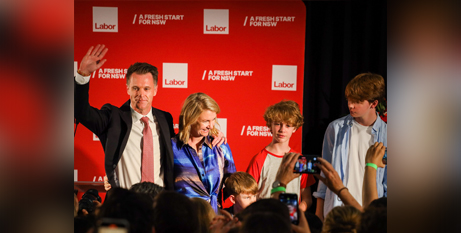 Faith groups have welcomed the election of the new Labor Government in New South Wales, expressing hope that new Premier Chris Minns will listen to and respect people of faith and fulfil pre-election commitments. Source: The Catholic Weekly.
Labor ended 12 years in opposition following the state election on Saturday.
The Council for Catholic School Parents welcomed the new Government's commitment to spending $60 million on new and expanded pre-schools, co-located at non-government schools, saying it would offer families the convenience of having children educated on the one site.
During the election campaign, the Dominic Perrottet-led Coalition promised an extra $50 million in classroom upgrades and building projects for non-government schools and CCSP Chairman, Wayne Davie has called on the Minns Government to match that commitment.
"The schools we're most concerned about are those affected by the NSW floods, since some of them have essentially been wiped out and haven't been able to get any commitment from insurance companies to cover insurance for those schools," Mr Davie said.
The Australian Christian Lobby's deputy director, Dan Flynn, said Christian groups have welcomed Labor's commitment to establish a faith affairs council, which would be made up of representatives appointed by the various faiths and would be able to present their concerns directly to the new Government.
Mr Minns has confirmed that the Labor MP for Rockdale, Steve Kamper, will be the Government's point of contact for faith communities on the new faith affairs council.
A Government spokesman has confirmed that current representatives on the religious communities advisory council established by the outgoing Coalition government would continue on the faith affairs council, if their faith community supported their appointment.
Labor has also committed to reviewing the Anti-Discrimination Act within its first 100 days in government to include the need to address discrimination on the basis of religion.
FULL STORY
Faith groups hopeful new NSW Labor government will invest in religious communities (By Michael Kenny, The Catholic Weekly)