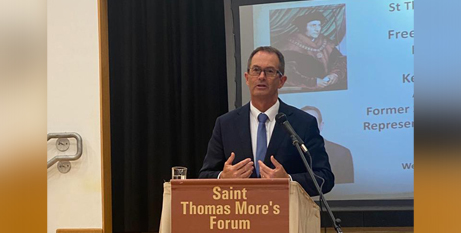 Few human rights are as fundamental as the right to practise one's faith yet it's one people have to work hard to defend, according to federal MP Andrew Wallace. Source: Catholic Voice.
That was the central theme to emerge from Mr Wallace's keynote address to the St Thomas More Forum in Canberra on March 22.
Mr Wallace said freedom of religion was important because it was a "precious asset" that government, church and society must be united in protecting and promoting.
"We cannot understate how crucial the freedom of religion or belief is to our national character, democratic order, and church teaching … and it is under threat," he said.
In wide-ranging remarks that covered global and national developments, Mr Wallace referred to threats to freedom of religion from religious extremists and other groups across the political spectrum.
Locally, he said, he was especially concerned for the future of teaching of faith in schools, which had played an important role in civics education and the teaching of communal values such as "service above self".
Mr Wallace also discussed last year's Religious Discrimination Bill, debated in Parliament but subsequently withdrawn.
Speaking after his address, the former barrister and member for the Queensland electorate of Fisher said freedom of religion should be celebrated.
"Successful civilisations have always protected religious freedom, not necessarily freedom of the Christian religion, but the ability to be able to practice one's faith. It's a fundamental tenet of our democracy," Mr Wallace said.
Mr Wallace was the speaker of the House of Representatives under the Morrison Government when the Religious Discrimination Bill was debated.
As speaker he was prevented from expressing a view but he said he was uncomfortable about the bill, believing codification of religious freedom to be problematic.
Enshrining religious protection in legislation could become a "double-edged sword", he said, and result in "unintended consequences."
"In essence, the combination of our existing discrimination laws and common law has served us very well in Australia."
FULL STORY
Freedom of religion under the spotlight at St Thomas More Forum (By Don Smith, Catholic Voice)