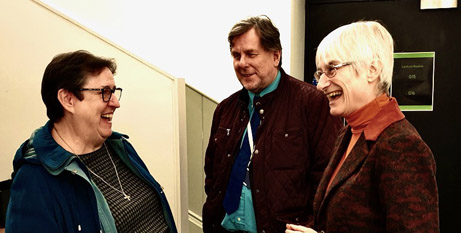 Contributions from religious to the Synod on Synodality contained a "powerful and fearless critique" of clericalism and a "clear call" for lay people and religious to be involved in the formation of seminarians. Source: The Tablet.
Delivering an address at Trinity College Dublin, Dr Gemma Simmonds CJ, a member of the group charged with drawing up the summary, said members of religious orders felt that lay and religious involvement in formation might help a "more participative and welcoming" Church to emerge and ensure that ordained ministry was seen not as "a clerical caste" but a "refined form of the baptismal vocation" in line with the teaching of Vatican II.
Dr Simmonds was one of four religious on the synthesising commission for Religious asked to produce the summary from the contributions received from hundreds of religious communities worldwide for the Synod. The other commission members were José Cristo Rey García Paredes CMF, Maria Cimperman RSCJ and Orlando Torres SJ.
The religious sister of the Congregation of Jesus, who is Director of the Religious Life Institute at the Margaret Beaufort Institute of Theology in Cambridge, was in Dublin to deliver the final lecture in the Loyola Institute's Lenten Series: "Authentic, Effective Reform in the Church: Reading Yves Congar Today".
In her talk, "True and False Reform Today", she said the religious contributions to the synod spoke with "openness and courage" about situations that must change if religious life itself and the wider Church are to survive and flourish.
They offered "a vigorous self-critique", as well as a critique of "oppressive attitudes and practices within the wider Church" which are preventing the general life of the Church from achieving its full potential.
FULL STORY
Call for lay and Religious to be involved in priestly formation (By Sarah Mac Donald, The Tablet)