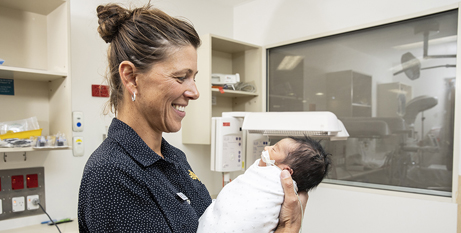 The St John of God Foundation has been awarded a grant from Western Australia's Channel 7 Telethon Trust which will be used to help monitor the health and wellbeing of newborns who need specialist care. Source: The Record.
The telethon formally announced the organisations and charities that will benefit from the 2023 grants last week.
Funding will directly help families in the Neonatal Intensive Care Unit (NICU) and Special Care Nursery at both St John of God Murdoch and St John of God Subiaco Hospitals, through the purchase of "Angel Eyes" camera systems.
The system provides live video streaming from NICU and Special Care Nursery cots, allowing parents and other family members to watch their vulnerable infants in real time, no matter where they are located.
St John of God Foundation CEO Bianca Pietralla said for families of newborn babies whose first few days, weeks or even months are spent in the NICU or Special Care Nursery, the joy of their baby's arrival can be tempered by the anxieties brought on by separation and the strain of managing visits.
"The Angel Eyes camera system can help to bring comfort and connection to families during this challenging time and is the very definition of the compassionate care that we pride ourselves on at St John of God Health Care," Ms Pietralla said.
Last year, St John of God Subiaco and Murdoch Hospitals welcomed almost 5000 babies into the world, of which, 924 were treated in NICUs or special care nurseries.
During long stays, parents will often stay with their vulnerable newborns for as many hours as they can, which can cause distress for other family members and reduce the opportunity for mothers to heal after childbirth.
The Angel Eyes camera system is a simple and secure solution that provides reassurance, reduces anxiety and allows parents to feel more connected and involved in the care of their newborn.
The Angel Eyes camera systems are expected to arrive in hospitals in 2023.
FULL STORY
St John of God Foundation grant to help vulnerable babies thanks to first ever Telethon funding (The Record)