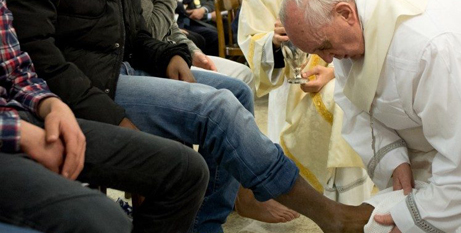 Pope Francis has offered advice for how to have a fruitful Holy Week, urging people to focus on the essentials and look to the cross as the source of hope, as he prepares to wash the feet of 12 young people at a juvenile centre. Source: CNA.
In his last public audience before the start of the Paschal Triduum, the Pope yesterday noted how many people today who walk down the street appear sad, focused "only on their cell phones, but without peace, without hope".
He urged people to eliminate "useless things that are substitutes for hope" during Holy Week to focus on the true source of hope found in Christ.
"During these holy days, let us draw near the Crucified One. Let us place ourselves before him … to take an honest look at ourselves, removing whatever is superfluous. Let us let Jesus regenerate hope in us," Pope Francis said at the end of his general audience.
"This is needed: to go back to the heart, to the essentials, to a simple life, stripped of many useless things, which are substitutes for hope. Today, when everything is complex and we risk losing the plot, we need simplicity, to rediscover the value of sobriety, the value of renunciation, to clean up what pollutes the heart and makes us sad," he said.
Speaking in St Peter's Square on a chilly spring morning, Pope Francis also highlighted how Jesus did not cover up or hide his wounds when he was nailed to the cross.
"God does not hide his wounds, that pierced his body and soul, from our eyes. He shows them so we can see that a new passage can be opened with Easter: to make of our own wounds, holes of light," he said.
At the end of the Wednesday audience, Pope Francis appealed for peace in Ukraine and asked people to pray for victims of war during Holy Week.
Meanwhile, today, on Holy Thursday, Pope Francis will visit with inmates at Rome's Casal del Marmo juvenile institution where he will wash the feet of 12 young people during the Mass of the Lord's Supper.
In a press release issued by Italy's Inspectorate of Prison Chaplains, Fr Raffaele Grimaldi said this showed the Pope's closeness to those who are often rejected by society and simply labelled "a problem".
Fr. Grimaldi said the Pope's expression of care and concern in meeting with the inmates brings to mind the affection of a "grandfather who goes to embrace his grandchildren … who cry out their pain and know that they will not be judged for their mistakes, but offered encouragement and invited to never to lose hope".
FULL STORY
Pope Francis' advice for Holy Week: Look to the cross, our hope is there (By Hannah Brockhaus, CNA)
RELATED COVERAGE
Pope to wash the feet of 12 young people on Holy Thursday (Vatican News)